Panasonic Europe will be using Integrated Systems Europe 2012 in Amsterdam to focus on the  breadth of installation applications across its professional AV product range including large format interactive displays and its commitment to its eco credentials through the carbon offset programme.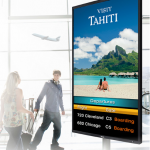 Located in Hall 1 stand 1H56, Panasonic will be showcasing various display applications from indoor digital signage, interactive displays for kiosks and points of information, to weatherproof displays for outdoor signage capable of resisting dust and rain, as well as extreme weather conditions like freezing temperatures and bright sunlight. These displays are designed for specific environments such as shopping centres, factories, airports and other transport facilities including bus stops.
"At this year's ISE our stand will be more applications-focussed than ever and we are thrilled to demonstrate exactly what our most cutting-edge display technologies are capable of", said Yojiro Matsubara, Director of Professional Displays in Europe, "Next year is going to be a pinnacle time for the AV industry, with technology boundaries being pushed at every turn from large scale sporting events such as the Olympics to outdoor gesture control signage experiences. ISE provides the perfect platform to explore AV innovation and demonstrate the advances in technology that will shape the industry for the next year."
Panasonic will also reinforce its commitment to producing eco friendly products and reducing carbon emissions through its Offset for Life initiative for customers who purchase projectors and display products.