Beauty spa and skin clinic Zen Lifestyle has a new Digital Mannequin on its window on Hanover Street, Edinburgh, to attract potential customers.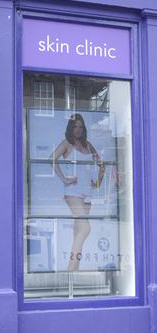 Installed by Scala Certified Partner Cognition the life-size Digital Mannequin is composed of three 42" Phillips LCD screens.
Graham Pow from Cognition explains "the client wanted to have a window display that would grab the attention of potential customers who may be unfamiliar with the Zen Lifestyle brand and the Digital Mannequin certainly does that."
The slowly moving model, shot on a cinema standard camera, shows every detail of the model and it showcases the variety of treatments available at Zen Lifestyle. The Digital Mannequin footage was shot and edited in Cognition's studio.
The screen also shows a range of promotional material using Scala to create three independent screens. Cognition can create some unique content that can maximise the use of the screens and create an impact at a street level. The Scala software powers the screens, using one player license and Zen can change the content on the displays. Cognition's monthly content updates allow them to create new professional content, which is in line with their business needs and assuring that the screens always remain fresh.
The Digital Mannequin is proving to be a greater pull than the traditional print window displays, with window viewing time averaging 60% longer than the static equivalents.
"The Cognition screens allow us to change our window displays instantly in line with our business needs and the response has been fantastic," states Kieran Fowley from Zen Lifestyle.
The high brightness HD screens are also striking at night when they light up Hanover Street, giving Zen Lifestyle a great opportunity to market their business in out-of-office hours and reach a wider audience.
Fowley from Zen Lifestyle says: "People are stopping to look as it is so unique and unexpected, and this is giving us the opportunity to reach out to a really wide audience and communicate our unique range of services. This innovative, high-quality communications channel for passers-by is a great indicator of the high quality and innovative experience clients can expect when they come through the door."