VeriFone announced a few weeks ago that it is working with Radio Taxis Group (RTG) to deliver a next generation payment solution across RTG's fleet of licensed London taxis.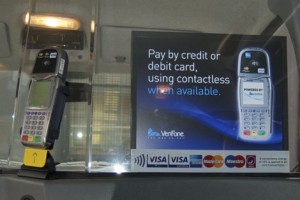 The deal, which will mean that more than 2000 systems will have been installed in the RTG fleet by June 2012, will make RTG one of the largest single users of VeriFone's TfL-approved payments platform in the UK.
RTG fleets (Radio Taxis and Xeta) will now be able to accept contactless as well as traditional debit and credit cards AND the system is also fully future-proofed to accept EMV payments directly from a tap of an NFC-enabled mobile phone against the reader in each taxi.
RTG anticipates that the fully integrated payments system, which includes a passenger-compartment card acceptance device and digital passenger screen, will be quicker and easier to use.