Adrian J Cotterill, Editor-in-Chief
The free, not-for-profit initiative which is OpenSplash, of which DailyDOOH's holding company IGCH Ltd is intimately involved † needs your support.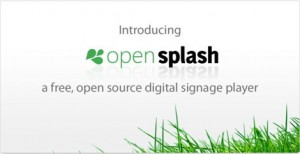 We mentioned a few months ago that we'd had a couple of requests from Taiwanese hardware manufacturers along the lines of "My company would like to develop a player H/W to fully support opensplash, can we file application for certification?" and we met some of them at #dse2012 last week (though no one had any finished products on display).
Software consultancy Silver Curve has already finished a SMIL implementation for a couple of customers and is now working on a top-secret project which hopefully might be unveiled at #ScreenmediaExpo in May.
So, seeing as it is all going rather well, we figured we ought to jump on that and OpenSplash has now secured its own stand at #ScreenMediaExpo in May where hardware and software vendors are free to exhibit their support of OpenSplash.
We've already got support from half a dozen folks but if you are interested in taking some space on the OpenSplash booth then do please drop us a line as well.
†Technical Director Andrew Neale, Head of R&D Jorge Garcia de Bustos sit on the OpenSplash Steering Group. Adrian J Cotterill chairs the OpenSplash Steering Group