Adrian J Cotterill, Editor-in-Chief
The 2012 International CES kicks off the year for all those interested in computers, consumer electronics, gadgets and the like 10th January to 13th in (where else) Las Vegas.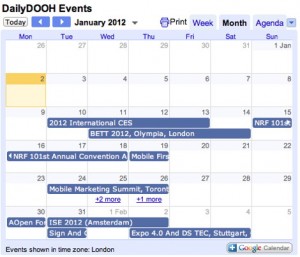 In London BETT 2012 starts on 11th January catering for the education sector and continues through to 14th.
The NRF 101st Annual Convention is in New York 15th January through to the 18th.
Mobile FirstLook 2012 is conveniently the day after on 19th January also in New York.
A week later the Mobile Marketing Summit happens in Toronto 24th, 25th and 26th January. Also in Toronto on the 25th and 26th is the Dx3 Canada Digital Trade Show and also on the 25th is an NFC Bootcamp in Santa Clara.
At the end of the month it's really the beginning of February (if you know what we mean) cos' Monday 30th January sees both the AOpen Partner Event and DiSCO effectively kick off ISE 2012.
ISE 2012 starts Tuesday 31st January (and continues to 2nd February). Also on 31st january in Dubai is the Sign And Graphic Imaging Middle East event in Dubai.