Gail Chiasson, North American Editor
Concord, Massachusetts-based Isabella Products Inc., a mobile device and services company, has made a strategic partnership with worldwide digital signage software company Scala Inc. under which both companies will develop sales, marketing, and technology initiatives for 2012 and beyond for the digital signage market.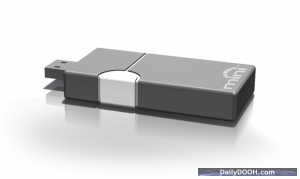 Scala, in its efforts to better serve the small and medium business sector with its SignChannel service, will support Isabella Products' Vizit and Mini devices to provide a low cost, hassle-free, cellular networking solution for SignChannel users. Isabella will in turn develop a digital signage version of its award-winning Vizit interactive display and Mini 3G USB stick optimized for use with SignChannel.
The Vizit-DS and Mini-DS products will provide Scala with integrated 2G/3G cellular solutions for reliably delivering digital signage content across multiple display environments throughout various locations. Using Isabella's existing relationships with world-class wireless carriers, Vizit-DS and Mini-DS will be marketed through Scala's existing global sales and distribution channels.
Matthew Growney, founder and CEO, Isabella Products, says that combining Scala's global presence and expertise in the digital signage business with Isabella's compelling, cost-effective product portfolio with mobile capabilities, allows Isabella to introduce these new products and services to a whole new market.
Scala's award-winning SignChannel service allows SMB owners to easily deploy digital signage in their locations without the complexity or cost normally associated with traditional enterprise solutions. SignChannel's intuitive web interface requires no special training and installation is simple. Until now, users still had to find a solution for connecting their devices to the Internet. That problem is now solved: If your cell phone works, your digital signage or kiosk will work.
"The Mini-DS is a game changer," says Jeff Porter, president, SignChannel. "Just plug the Mini-DS into any TV and you will have a SignChannel player. It couldn't be easier. In addition, the Vizit-DS makes deploying a kiosk just as easy – simply add electricity, nothing more! With SignChannel's ease of use and Isabella's relationships in the cellular industry, deploying digital signage and kiosks just got a whole lot simpler."
Vizit-DS is a 10.4" full-touch interactive media display that wirelessly receives and plays images and SWF files while allowing viewers to interact and share the display's content remotely. Mini-DS is a 3G USB stick that can be inserted into digital televisions, digital photo frames, and digital monitors to cost-effectively deliver content across the cellular network.
Both companies are evaluating additional product development opportunities that will provide mobile Internet connectivity in a cost-effective manner to emerging interactive displays, kiosks, and other digital signage implementations.