Adrian J Cotterill, Editor-in-Chief
Christie has teamed up with Arsenal Media for the National Retail Federation's BIG show held on January 16 –17 in New York.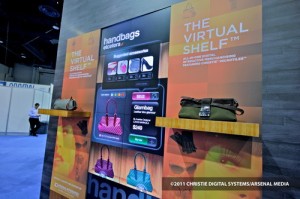 Christie will showcase its broad range of digital signage solutions, which include designing, building, deploying and on-going monitoring services for the retail market.
The Christie displays at #NRF include a 2 wide by 6 tall (32 inches wide by 72 inches tall) Christie MicroTiles shopping station with touch interactivity, 11 additional Christie MicroTiles in an engaging configuration, and two stacked 55-inch high-definition Christie FHD551-X HD LCD flat panels.
Last year, NRF 2011 attendees previewed an exclusive sneak preview of the Virtual Shelf interactive concept display with mobile applications, designed by Arsenal Media, in collaboration with Christie. In 2012, the concept truly comes to life.
Christie MicroTiles is combined with a gesture operated interactive shopping platform, mobile features, QR code promotions, lounge soundtrack, and ambient print design. Attendees will instantly see the benefits of this client-focused application that not only showcases up-sell and cross-sell opportunities based on fashion style or client persona, but gives consumers full control over their shopping experience by providing  product category, model and color choices. The Virtual Shelf is unique in that its features are adaptable to each retailer's brand, merchandising strategy and décor
"The Virtual Shelf is a smart and stylish new breed of interactive shopping destinations. I believe it answers today's consumer expectations regarding their in-store experiences while providing innovative merchandising opportunities for retailers. It utilizes a minimal amount of space without diminishing the impact of the sales experience and access to full inventory," said Denys Lavigne, president of Arsenal Media.
Christie can be found on Booth #667