IAdea is giving away USD100 to each winner of a 'Guess Which Cup' game being played at participating IAdea partners including Scala, Advantech and Stinova at #ISE2012.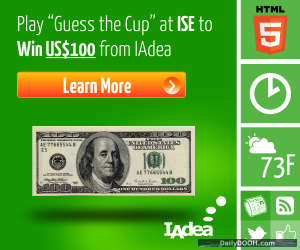 During the gameplay, a ball is placed under one of three cups shown on-screen. The cups are then shuffled randomly several times during which the player is expected to track the location of the ball. The player is then asked to identify the cup that holds the ball.
The game is hosted on IAdea's newest XMP-3350 HTML5 Web Appliance and is written entirely in HTML5 to provide the dynamic visual effects of the shuffling cups. As the shuffling stops, three QR codes appear one on top of each cup. The player then uses a smart phone to scan the cup determined to be holding the ball. If the correct cup is picked, the player wins a USD 100 coupon towards future purchase from IAdea.
The demonstration shows the capability of HTML5 as a digital signage content standard for creating interactive content that integrates tightly with mobile devices.
Visitors to #ISE2012 interested in experiencing the flexibility of HTML5 and IAdea's new Web Appliances are invited to visit one of the participating IAdea partners at the show: Scala at stand #10K122, Advantech at #10S130, and Stinova at #10K139 and #10K150