Adrian J Cotterill, Editor-in-Chief
Anecdotal evidence that UK network (if you can call it that) RAM Vision's MTBF goes from bad to worse. Fresh from The Oracle (Reading) downtime over the New Year that we tweeted about, comes pictures of their network at Clapham Shop stop…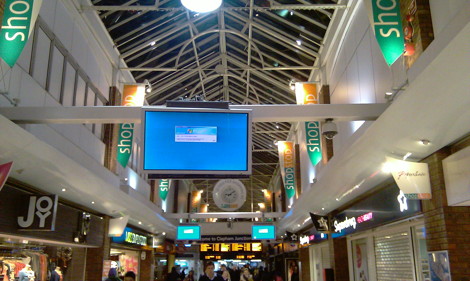 It was taken yesterday and our local 'stringer' tells us that the screens have been off for two days at the very least.
"Not so" though, says Ram Vision's Adrian Hopper who emailed us Monday lunchtime, "The screens were in this state for a maximum of 8 hours on Sunday and I can confirm that they are all now live and functioning".
He continued "Our BroadSign play logs for the centre yesterday show that advertisers achieved on average 74% of their booked airtime and we will be up weighting their campaigns to over deliver on any under shows".