Gail Chiasson, North American Editor
Geared especially for gas stations and convenience stores, Watchfire Signs, Danville, Illinois, has introduced a new line of LED gas price signs that are windowless, giving customers a clear, unobstructed view of the LEDs and therefore making the display up to 40% brighter, eliminating glare and minimizing moisture and heat build-up for maximum durability.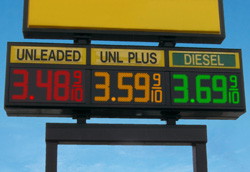 These new Watchfire Price Watcher signs feature fully manufactured cabinets that are designed to fit new structures and easily retrofit into existing signs.
The signs contain fully encapsulated modules that lengthen the expected product life and increase operational up-time as reflected in the industry-leading, two-year warranty for this product. Full silicone encapsulation protects board-mounted LED modules in a thick bed of silicone gel, enabling the modules to operate reliably even in the harshest conditions, protecting electronic components from the effects of moisture, air-borne salts and heat.
In addition, the signs include an active front ventilation system to keep components cool and extend product life, and also enable lower cost low-profile installation. Their design provides a 'plug and play' solution with easy front service capability.
Watchfire eliminates both the expense of mounting multiple, individual components and the need for the sign company to design a waterproof sign structure. All components are factory-wired and fully assembled.
With the included five-button remote, sign prices can be changed over a secure wireless connection with-a-line of sight range of up to 200 feet.
Price Watcher signs are initially available in 12" and 24" character heights in red, green and amber, with 18″and 30″ character height options available later this year.