Adrian J Cotterill, Editor-in-Chief
I blame the Koreans (well okay, I blame Samsung and LG) for getting into a war of attrition in the display business with the Chinese.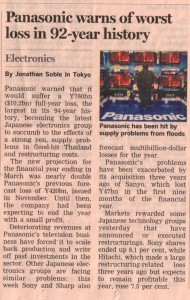 Seemingly, never a day goes by, without more bad news from one or other of the display manufacturers (whether they be Korean, Japanese or other).
It's been widely reported this past week of course that Panasonic is headed for a record USD 10 billion annual loss (ouch, serves 'em right for buying Sanyo I hear you say).
Anyway, we guess the question really is whether this war of attrition is good or bad for the digital signage and DOOH industry?
This year 2012 will definitely see a merciless price war on displays. That's obviously good for digital signage customers (costs lower of course) but it can also be bad for the 'industry' as price wars never do any good for the suppliers.
We've set up a quick and dirty twtpoll should you wish to have a Yes / No / Don't care vote.
It's probably too early tell which way it may swing but watch this space, for many screen manufacturers it's going to be horrid out there.