Gail Chiasson, North American Editor
Captivate Network's elevator screens, DigiCast's National Café Network and cinema ads are part of an extensive campaign promoting Movies On Demand (MOD) during the current Awards Season.
Cable systems are promoting cable's Movies On Demand as the best place to see many award-winning and award-nominated titles, and MD distributor iN DEMAND is helping to spread the 'MOD on cable' message on behalf of its affiliates with layers of media, contests and gaming, set to garner 50 million-plus impressions. In fact, this is one of the most extensive multi-platform campaigns we've seen.
The company's 2012 Awards Season marketing campaign will reach potential audiences in a mix of innovative ways, such as in movie theaters, on the way to work, while relaxing in cafes, through online movie trivia and via a user-generated content contest. In addition, through a new promotional content partnership with the Academy of Motion Picture Arts and Sciences, viewers can see memorable highlights of past Academy Award telecasts.
"The first quarter is the time of year when movies have the highest awareness via national media, blogs, social media and of course around high-profile awards shows," says Stacie Gray, chief creative officer, iN DEMAND. "It is imperative for Movies On Demand to be part of the conversation, since many of the nominated and winning films can be viewed right now on cable's MOD platform. We want to bring this message to movie-lovers wherever they might be, in or out-of-home."
Viewers can relive quintessential Oscar highlights on cable's Movies On Demand through Comcast, Time Warner Cable, Cox Communications and Bright House Networks and on many system websites through a new promotional content partnership between the Academy of Motion Picture Arts and Sciences and iN DEMAND. Highlights of the content includeoutstanding monologues, memorable acceptance speeches and show highlights that will get fans ready for the upcoming Oscars on February 26.
Movie audiences will see the MOD :30 spot* in National CineMedia's FirstLook pre-show program on nearly 2,500 screens in 168 movie theatres in 12 of the top U.S. markets throughout February, 2012.
iN DEMAND has partnered with TVGuide.comv to launch a custom-built page on TV Guide's awards section starting mid-February, featuring nominated movies and past winners now playing on MOD. Movie fans can also make their predictions via the Pick 'Em Challenge and share their picks on Facebook for a chance to win a 50" HDTV and one year of Movies On Demand.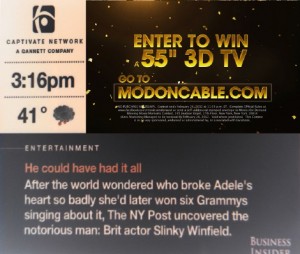 In the two weeks leading up to the February 26 ceremony, 7,500 video screens in elevators in almost 750 office buildings are featuring the MOD Awards Season creative through Captivate Network. Sync sponsorship includes video, editorial and logo placement. The campaign is running in 12 of the top U.S. markets.
iN DEMAND is also working with DigiCast Networks, which is incorporating the MOD awards season message on digital video displays in its Café Network, reaching cafes, coffee houses and juice bars in 18 states during most of February. Favorite customer hangouts such as The Coffee Bean, Tully's, Noah's, Robeks and Juice It Up are displaying the messaging.
Gaming site Sporcle.com will feature movie-themed games on the home page for six weeks with MOD-sponsored badges as well as flash banners across the site. In addition, its movies category pages have a clickable skin pointing to rentmoviesondemand.com/awards.
In addition, iN DEMAND is giving movie fans their own ways to win during Awards Season with a user-generated video contest, an awards-themed Facebook app and trivia game. The website also provides information on nominated titles and past winners now on MOD.
The Winning Movie Moments contest invites would-be thespians to send in videos of themselves recreating some of the world's most memorable movie lines from 10 award-winning films, such as Casablanca ("Here's looking at you, kid.") and Gone with the Wind ("As God is my witness, I'll never be hungry again."). Online voting will select the winner of a brand new 55" HD-3D TV.
An awards-themed version of the Movies on Demand on Cable app gives users a chance to rank past award-winners in major categories and win daily prizes.
And users can play a series of awards-themed trivia games powered by leading media entertainment company Exponential Entertainment, the creators of the soon to be released online movie game HollywoodPlayer.
The creative for the campaign encourages viewers to 'Watch this year's contenders or past winners right at home via MOD.' The spot can be viewed here.
All films featured in the promotions will be available to order instantly on cableCable's MOD gets major new release titles often the same day as they are available on DVD and many come to cable weeks before Netflix and Redbox.
iN DEMAND L.L.C. is the pioneer in providing exciting transactional entertainment delivered through television's most innovative technologies It creates and delivers programming through cable Pay-Per-View, Video On Demand as well as on digital platforms. Content is delivered in SD, HD and 3D. iN DEMAND's owners are Comcast iN DEMAND Holdings, Inc., Cox Communications Holdings, Inc., and Time Warner Entertainment – Advance/Newhouse Partnership.