Adrian J Cotterill, Editor-in-Chief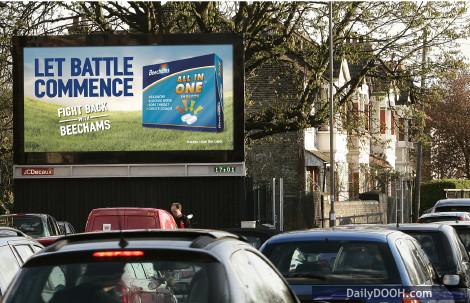 This Beechams campaign is running across all of JCDecaux's 17 digital screens in London at the moment BUT interestingly it is 'regulated' via constant updates throughout the day from the Met Office and ONLY actually runs (i.e. displays) when the temperature is below 10°C !!!
How cool is that ? (sorry forgive the pun !!!)
The creative is urging people to 'Fight Back with Beechams' using 'All in One' tablets to battle symptoms of cold and flu.
Jon Wilson from MediaCom told us "Our strategy was to bring Beechams into spaces where our 'Fight Back' positioning would resonate most. The immediate and flexible nature of JCDecaux's PrimeTime package means that we can cost efficiently reach commuters with a targeted message when the temperature really bites"
The campaign was booked through Mediacom and Kinetic and is running between 1st December 2008 and 8th February 2009.