Gail Chiasson, North American Editor
Montreal-based Echo Labs has launched Echoer, a free iPhone application that allows users to post and experience local thoughts, events and discoveries.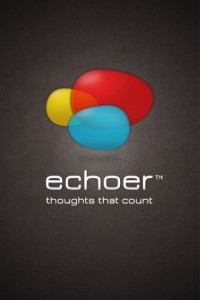 The visual nature of the app, currently exclusively in the Canadian iTunes app store, makes it quick and simple to find out relevant, timely, and popular recommendations, news and opinions about local restaurants, bars, gigs and events – wherever people gather to share ideas and experiences.
"Echoer is an app for anyone who's tired of reading old and out-of-date comments, and who wants to engage in the local conversation," says Daniel Cowen, co-founder and CEO. "With Echoer they can find out, in an intuitive and enchanting way, what people are saying in real-time about places, events and issues near them.
"Because of our ties to Montreal, we've been developing and beta testing this technology here, and we decided to launch Echoer in Canada first, before rolling out the app to the rest of North America, Europe and Asia."
As well as posting their own thoughts, known as 'Echoes', users can amplify others' recommendations and discoveries, helping Echoer identify the most relevant and popular posts in a given location. Echoer takes this into account, together with timeliness and locality, displaying the most relevant Echoes on a local map.
"We've developed an innovative and beautiful solution to cut through the surrounding social media noise, and bring you content that's relevant, timely and local," says Cowen. "We've put as much time, thought and effort into the look and feel of the app as we have into the design of the system that powers it."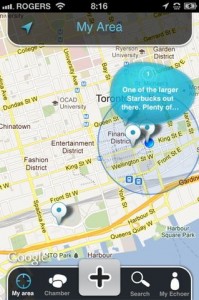 The Echoer algorithms and interface have been developed in a global effort between Echoer engineers, designers and marketers in Montreal, Israel and Hong Kong. They have been designed to provide a positive and enjoyable experience, whether navigating your surrounding area or delving deeper into a specific place through that location's own 'Echo Chamber'.
When exploring your local area, the most popular and up-to-date content is displayed more frequently and prominently on the screen, and when you enter a place, you are able to see a striking visualization of the echoes there, moving around in real-time as they vie for prominence against one and other.
The Echoer team have extensive experience in developing mobile app hits. In 2011, the team released the 'Last Night Never Happened' app, which went on to reach a top social media app spot in international markets. The design and concept behind Echoer has already led to accolades, with Echoer winning the influential LeWeb 2011 Google People's Choice Award in Dec./2011.
Echo Labs was founded in March 2011 and is led by two entrepreneurs, Daniel Cowen and Davin Sufer. The company's mission is to develop revolutionary social media products that allow users to interact with the information and places around them in an engaging and meaningful way, combining user recommendations, locality and timeliness.