Adrian J Cotterill, Editor-in-Chief
Place a load of containers in London near Shoreditch High Street station, paint them black and what do you get?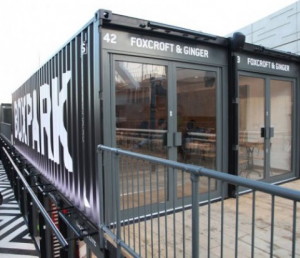 If you answered 'upscale urban branded shops' you are probably reading too many William Gibson novels, living locally or have visited it (that's right you would be correct as well).
We have seen pop-up stores in containers before (Puma City see here) as well as a complete interactive video wall display installed inside one but as Sixteen Nine's Dave Haynes (the first to write about this) said "Nike has opened a new retail space that pretty seriously raises the bar on what experiential digital look like for brands and consumers".
Dave's post on the NikeFuel Station and NikeiD Studio at Boxpark in East London here is well worth a read.
The Nike+ FuelStation includes: –
Digital Mannequins – motion sensitive intelligent mirrors that reveal film footage of local runners wearing key products from the store
Interactive Touch Screens – providing consumers with information about Nike+ products, Nike+ Run Club sessions and products
Gait Analysis – in-store treadmill to allow consumers to purchase the right shoe for their running style
Nike+ FuelBand Interactive Experience – a motion sensitive installation where consumers see a life-size, digitized reflection on an LCD wall that reacts to movement to create a stunning piece of digital art that can be shared with friends via social networks
There's more on Boxpark Shoreditch, described as 'The World's First Popup Mall' over on their official web site here and for anyone in London interested in AV, retail or digital signage it's probably worth a quick visit.