#ScreenmediaExpo is only nine weeks away and no doubt exhibitors will, like us, be getting ready with stand design, content etc (Amigo Digital will once again be exhibiting – this year we have 18 square metres open on three sides and you will be able to find us on stand F45).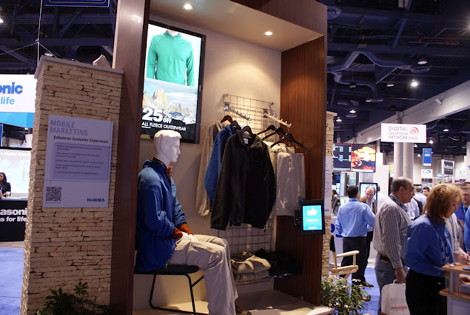 Yesterday when we were doing some Scala programming work with DailyDOOH's Andrew Neale (did you know his middle name was Howard?) he (Howard that is) brought to out attention some of the exhibition stands that he (Howard) and Adrian liked at #dse2012 a few weeks back.
The Hughes stand 1019 at #dse2012 – err okay now I get the Howard references, Ed was a great example of context (shown above) but look at STRATACACHE's use of PrimaSee below…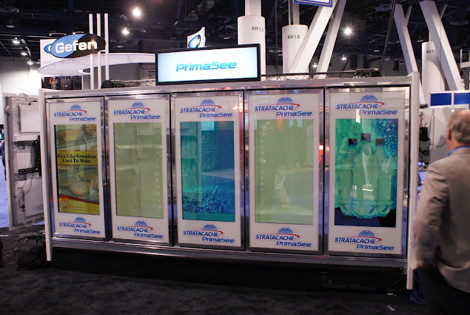 No doubt PrimaSee is a lovely use of transparent LCD but there is no context and far too much of their own STRATACACHE branding on display.
As Adrian pointed out the week before when PrimaSee was (also) shown at #gs12 – why don't they simply stock the refridgerators with product? That is by far the easiest way to bring context into the booth equation.
I also liked DIRECTV's approach on their booth at #dse2012 – yes, they started off by hanging an LCD screen in landscape mode on several of their booth walls…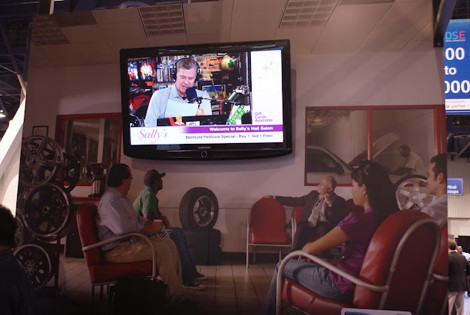 .. BUT they finished that off by taking the time to use a vinyl wrap to put those screens in context. Shown above is one example; a waiting room for a tyre and exhaust centre – a Mieneke Muffler, Midas, Goodyear in North America or a Kwik-Fit in Europe, Ed. There was also a hair and nails salon example on the same booth.
See also my 'Exhibitors Don't Forget Your Content' on the Do's and Dont's of showing off your content on an exhibition stand.