PSCo Technical Distribution, NEC's specialist videowall partner, will create a show-stopping four and half-metre high videowall at the 2012 NEC Solutions Showcase taking place on Wednesday 25th April at the O2 London, 10am – 6pm, alongside British Music Experience.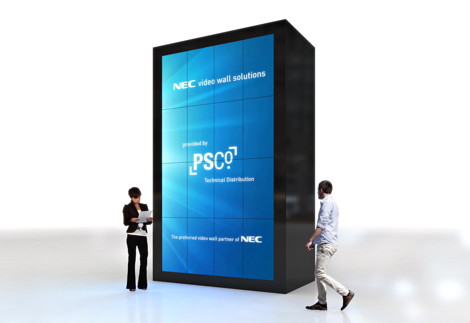 PSCo Technical Distribution will build an iconic 16-screen portrait videowall in the DOOH Zone, using the new X463UN, NEC's best-in-class 46-inch ultra-narrow bezel, public display with direct LED backlight, in a 4×4 portrait configuration, to demonstrate the high impact and immersive power of the videowall in a retail environment.
The X463UN videowall will be installed on a bespoke bracket system to ensure the smallest seam gap between screens.
Harris Infocaster™ players and Matrox Mura videowall controller will deliver content to the videowall at the full native resolution of each screen in the display wall.