Adrian J Cotterill, Editor-in-Chief
CURB Media, described as the 'world's first natural media company' have created what they describe as 'the world's first nationwide, audio-enabled OOH campaign for O2', which is also described as 'the first major project from its new multisensory division'. Phew!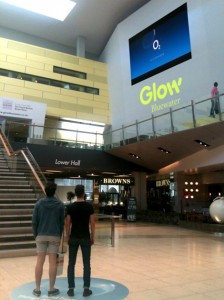 Yes I know, someone has been drinking the superlative soup
Bottom line, ignoring the superlative-soup, is that CURB Media, known for creating natural media campaigns and inspiring OOH (whoops, there's that superlative again) has audio-enabled UK media owner Ram Vision's networks to allow cellular / mobile phone operator O2 to include the title track from its current TV and radio campaign in the OOH and retail segments.
From Monday 26th March, the song, 'Little Boxes' by Sniffy Dog featuring Adrienne Stiefel, will be broadcast to the public via Sound Showers and Surface Speakers.
For the O2 campaign, a branded circular vinyl will invite passersby to stop and watch the TV ad on a number of Ram Vision's iconic screens in retail destinations including Bluewater and Trinity Walk, Wakefield – said Sound Showers will enable shoppers to hear the soundtrack to the advert as they watch.
In addition to this, CURB's Surface Speakers have been used to activate the shop front glazing of a selection of O2's retail stores, turning the windows themselves into speakers and thus giving those walking past the opportunity to listen to 'Little Boxes'.
O2's new campaign, which launched this month, will steer the focus of the brand away from mobile phone tariffs and toward helping customers connect with the things they love; from money and tickets, to shopping and communities.