Gail Chiasson, North American Editor
Videro GmbH believes that it is well known in Europe for its software behind such operations as the German Rock and Pop Museum, the Mercedes-Benz Museum and Porsche Museum, and the digital signage of German retail and banking leaders such as Engbers, Famila and Sparkasse KolnBonn.
However, while it moved into the U.S. back in 2010, it has been relatively quiet here, although if you are familiar with
Disney Store
s and their digital theatrical experiences, let it be known that Videro Inc. and channel partner
Edwards Technologies Inc.
is behind them.
However, we believe that we're going to be hearing and seeing a lot more of this company in the near future. We interviewed Brian Hughes, who joined the company in February as vice-president sales, to tell us more about the company, its offerings and its plans for the future. Hughes has been in the digital out-of-home business for nine years, including several years as channel manager for CoolSign (bought by Haivision) and more recently as vice-president sales and business development for Creative Realities Inc..
Hughes' main job these days is to recruit 'channel; partners' (ie. vendors) in the U.S. and Canada for Videro. The company has already added Diversified Media Group and CRI, as well as a couple of smaller partners in North Carolina and in Los Angeles. These are in addition to existing partner Edwards Technologies whose Brian Edwards, president and CEO, who has long worked with Disney.
"Videro's original plan was to sell its software directly, but decided that the better route was to develop channel partners," says Hughes. "Videro – which was only recently incorporated – is based on a Mac platform and offers its clients much more than straight digital signage. We see Videro as a 'brand experience software platform'."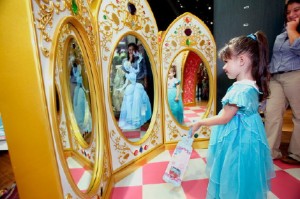 If we look at the Disney Stores, we can get some idea of what this means. Disney offers a full pre-choreographed experience that incorporates not only digital signage but also lighting, music, scent and screen content. In the storybook area, for example, when a story in being read, along with scenes on the screens, suitable background music sets the mood while the setting smells like being in the woods. If it is known that it's a child's birthday, all signage in the store welcomes him/her. Tinkerbell may fly from the ceiling. If a child comes to the 'magic mirror' (incorporating an RFID chip) with a wand or crown, a Disney character appears and interacts. Tree décor changes with the seasons. And there's much more.
"Disney controls the current 1,400 screens in about 130 stores and we expect another 40-to-50 more to be added," says Hughes. "And it only needs two people to operate everything." (We did notice, though, that interactive screens are activated by in-store personnel when a birthday child is identified, though, so there is definitely some local involvement.)
Of course, not all clients will need the magic of Disney in their DOOH presentations, but, "We want our clients to be able to impact as many customer experiences as possible," says Hughes.
Videro is currently working on a new project for what is believed to be a top five retail brand for 14 key stores. And it was involved in the content coordination of three screens at Times Square as the 'ball' dropped on New Year's Eve.
Because its offering is cloud-based, Videro offers maximum flexibility and, because it involves a Mac platform, "We believe the quality is superior and there are less security problems," says Hughes. "Our players are really browsers. There's real time rendering. You can add additional content; tie in with the iPhone and iPad; grab a web site – and can pop over to the nearest Apple store if there's something you want to add or change."
The whole architecture behind Videro was developed by Johannes Büld, the company's founder and president in Gronau, Germany. It stemmed from Büld wanting to help a friend who was the designer for the soon-to-be-built German Rock and Pop Museum. The designer was frustrated with having to send DVDs back and forth every time he wanted to change the music or videos for the various exhibits. So Büld suggested managing the audio and video files 'the same way we manage the content for your website?'
Building on his real world problem-solving, his experience in web design and Internet service, and his Masters degrees in Computer Science and Engineering, Büld pioneered three breakthrough technologies which propel the compelling visuals, intuitive design, and interactive connectivity of Videro. Within three years after its launch in 2006, Videro was managing hundreds of display systems in Germany and other European countries.
Since expanding to the U.S. in 2010, it has launched a research and development center, and co-headquarters, in San Francisco, where there is a staff of about eight.