Adrian J Cotterill, Editor-in-Chief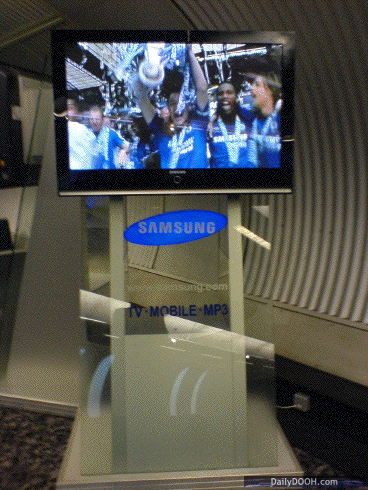 For anyone who has traveled through any of the Terminals at BAA's London Heathrow you will undoubtedly have seen large numbers of nice Samsung Plasma Screens.
Samsung will have spent a fortune on branding, product placement and advertising at the airport – inside and out! I believe they will also be doing the same at the new Terminal 5 which opens March 2008.
Samsung has great screens and some other great products (I have a very nice 42″ LCD at home and am looking forward to the release in 2008 of Samsung's dual format Blu-ray and HD DVD player) but they REALLY need some help with their content.
First; those screens which are switched on – unfortunately just over half – are simply playing archived (past) Chelsea football matches or tuned into a local TV news station.
I guess as sponsors of Chelsea Football Club they will get (good) access to archived footage (undoubtedly working with the Premier League, the FA, UEFA, FIFA etc as well) but come on – there is so much more they could offer on screen. It just requires a bit of imagination and a chat perhaps with the folks at Realisation, Dagobert, Grand Visual or Amigo Digital.
First of all Samsung need to get a digital signage device on the back of each screen, then get connectivity to it – something like a Sarian 3G / GPRS Router would make sense).
That way they can combine news stories, local features, alert messages, flight information AND product information – that better showcases the excellent screens that they have.