Adrian J Cotterill, Editor-in-Chief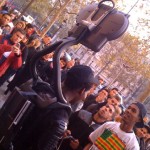 Mobile media provider Cübb were it seems, incredibly busy in Paris in the lead up to Christmas, as well as in Toulouse, Nice, Marseille and Bordeaux airports.
Cübb's mobile advertising and experential offerings, which we have written about a lot in the last 6 months, were out promoting Stadium ticket sales for the Stade de France inside FNAC, Carrefour and Auchan stores.
In total for this campaign there were 10 Cyklop™ teams per week with something like 120.000 direct contacts including flyers and other freebie goodies.
There were also campaigns for MotoCab (a chaffeur style service) in conjunction with JC Decaux Airport at 4 x French Airports (Toulouse, Nice, Marseille, Bordeaux).
Cübb were also out on the streets of Paris with their Cyklop™ PS3 Gaming Operation in FNAC Champs-Elysées for both Electronic Arts and Sony.
As we see with Pixman elsewhere globally – these sorts of 'guerilla' brand campaigns are proving incredibly popular with advertisers at the moment.