Gail Chiasson, North American Editor
Millennial Media's Q1 Mobile Mix report, released last week, takes a deep dive into mobile device/OS trends over the first three months of 2012. Additionally, the report contains a special section looking at global tablet trends.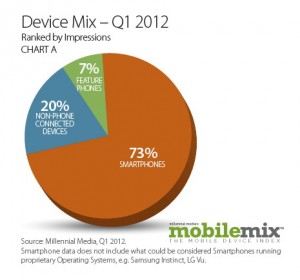 We noticed that Smartphones led the Device Mix, with 73% of the impressions in Q1.Though overall Smartphone impressions grew from Q4 2011 to Q1 2012, the percent of overall impressions was relatively flat quarter-over-quarter. Over the course of a year, however, there has seen significant growth in Smartphone impression share, as consumers upgraded from Feature Phones to more advanced mobile devices.
Some of the key points in this report include:
The Apple iPad, Samsung Galaxy Tab and Amazon Kindle Fire were the top tablets on the Millennial Media platform in Q1, and all three were among the Top 20 Mobile Devices;
'Non-Phone Connected Devices' (tablets, MP3 players, e-readers, etc.) increased 33% quarter-over-quarter and made up 20% of all impressions on the Millennial Media platform;
Apple remained the leading manufacturer on the platform and the iPhone was the leading individual phone;
Android was the leading OS on the platform with 49% of the total impressions (and 15 of the top 20 phones);
Samsung was the second leading manufacturer, and had four of the top 20 mobile phones;
Gaming was the top app category on the platform and grew 10% quarter-over-quarter.