Amscreen, the UK's largest Digital Media owner, has announced a deal with Lucozade that will help them target potential customers en route to key festivals throughout the UK this summer.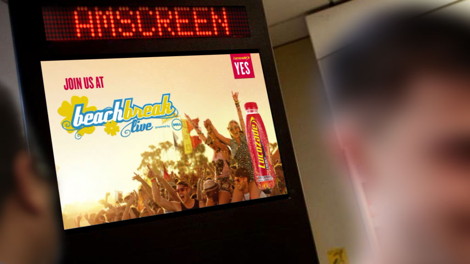 The energy drink will feature on the main routes to and from some of the largest events in the coming months by using Amscreen's site specific targeting facility, enabling them to advertise on hundreds of Forecourt screens within a 40 minute drive from five festivals – Beach Break Live, T in the Park, Latitude, Global Gathering and V Festival (Hylands Park site).
Amscreen CEO Simon Sugar told us "With the UK largest most flexible digital network, we can provide the most tailored packages for advertisers whether they're looking to reach sports fans or music loving festival goers. Our content delivery and scheduling software is designed to satisfy even the most specific briefs and we welcome those advertisers who wish to utilise the network in this way."
Lucozade are the first to utilise Amscreen's targeting abilities in this way; identify multiple key events over a three month period and tailor content to talk to the audience en route to and from their destination.
Messaging will only feature during key travelling periods for each event and should therefore reach these thousands of music loving individuals looking to hydrate and top-up their energy levels during this time.