Adrian J Cotterill, Editor-in-Chief
Back in October 2011 we wrote 'Mitsubishi Wins Digital Signage Contract For Narita Airport' and looked forward to seeing a total of 340 display units; including two pairs of 330-inch screens, a concave organic light-emitting diode (OLED) screen and multiple touch-screen displays – all in partial operation by March 2012 and full operation by the summer.
Well, here it all is…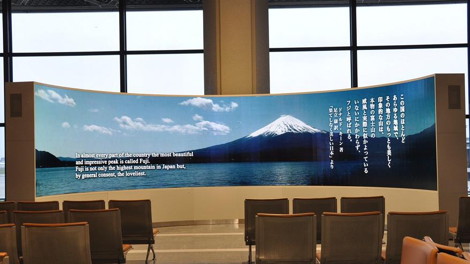 Above is Mitsubishi Electric's breathtaking new Panorama Vision OLED display – billed as the world's first 160 degree panoramic organic light-emitting diode (OLED) screen.
The rest of Japan's largest digital signage system covers all the passenger terminal areas and the 'system' displays airport news, entertainment and advertisements as well as "relaxing imagery depicting the beautiful natural scenery and marine wildlife of Japan".
Panorama Vision is the world's first seamless 160-degree concave OLED screen. Measuring 9.6m x 1.9m, it consists of 2,000 of Mitsubishi's 96mm x 96mm OLED display panels
Large format LCD display walls are installed in all passenger terminal areas, including a 9.2m x 1.7m unit consisting of 27 46-inch display panels, as well as smaller units made up of 16, 12, 8 and 4 panels respectively
Eleven 42-inch touchscreen user stations are situated around the shopping areas of both terminals, allowing visitors to search shop listings. A further 64 55-inch LCD displays are located around the terminal buildings as digital signage displays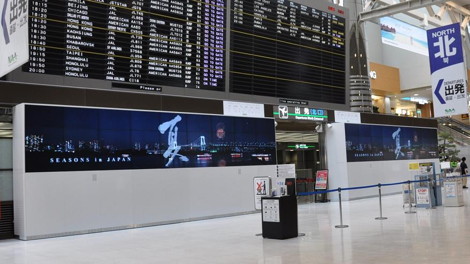 Content is delivered and managed via the Mediaway video streaming system, delivering full HD video independently to 100 display units simultaneously.
The system is able to switch instantly from scheduled videos to information or emergency announcements.
The opening ceremony was held yesterday Tuesday 26th June.