Gail Chiasson, North American Editor
The Office of Tourism of Quebec is using Zoom Media to present its tourist attractions to Montrealers in the corridor of 1000 rue de la Gauchetière, Montreal, under the theme: 'Lots of love to give! That's Quebec.'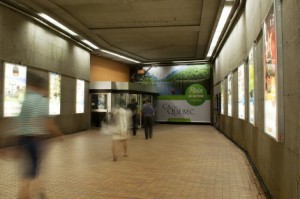 Users of the corridor are exposed to a wall, a banner and 16 mega-bright panels showcasing 22 Quebec City Tourism places and events.
With this campaign, the Tourist Office invites Montrealers to discover the multitude of events in Quebec, and to get out and explore and admire the breathtaking scenery of the region.
The Tourist Quebec has also chosen to appear in establishments of the Zoom Resto-Bars of Quebec network to promote its new mobile application. This will allow tourists visiting Quebec to know of the the various activities available to them near their location in the city.
The campaign is by HOP brand behaviour, Montreal.