Gail Chiasson, North American Editor
This month we welcome Tim Bleakley, CEO, Ocean Outdoor, London, U.K..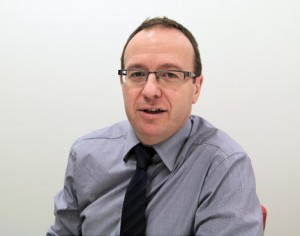 You promote Ocean Outdoor as a 'boutique' media company. In light of your growth and expansion in several cities beyond London, do you feel that this designation still applies? Please explain.

Yes, I think it does still apply. CBS Outdoor handles 100,000+ panels, JCDecaux and Clear Channel handle 50,000+, while we currently focus on 28 locations. Whilst our expansion may look aggressive, I'd argue that even if we doubled in size tomorrow, our uniqueness within the media marketplace would be maintained. Having said that, we are very conscious of the scale of our competitors and our challenge, so it's vital that we obsess and focus each day on the things that make us different.

I like your company name. How did you come up with it and why?

I cannot claim the company name, but I always liked it even in my CBS Outdoor days. It stands out as different and less corporate. I was privileged to inherit it and some of the beginnings of a different kind of brand essence within our sector. What we have tried to do since then is tell a clear story around the brand and magnify the key attributes. Richard Malton, our marketing director, worked closely with branding agency Heavenly. We are very proud of it and very focused on our business as a media brand and the possibilities that creates for us and our customers. However, in some ways, it makes our life more difficult, as it plays an important role in guiding which opportunities we pursue. We turn down more opportunities across all disciplines in the business than we take on. This can feel painful at the time.

You've won numerous awards for both the company and client content. What's your winning secret?

Well, we have a tiny marketing budget in comparison to the resources available to our competitors, so those amongst your readers who are advocates of awards will understand the added value you can get out of successfully entering competitions and winning them. It is an important way of us reaching new and different potential customers, and also aligning our current customers with our success. We are merely reflecting some of the brilliant creativity and media planning and buying that exists in our sector and promoting our landlords' assets. Most important of all is that you can raise standards in your business via awards processes, and they can be a great motivator of your people if you embrace them in the right way. No secret, the main trick is that you believe in them. If it's a box tick, don't bother. A great example of an award winning success story of this nature is Microloan which was a winner in our Digital Creative competition, then ran as a highly innovative campaign at Eat Street Westfield and has recently won a Cannes Gold Lion. The campaign has generated vast amounts of public relations and been distributed globally.

With such a crowded city as London and its immediate surroundings, what is your greatest difficulty in finding suitable sites?

Finding sites is not difficult, developing them is – and the main challenge is planning regulations. Also, the industry measurement system in the past (POSTAR) has encouraged a more = more approach in terms of developing inventory. I think this has created the wrong expectations with landlords in terms of value of assets. Ultimately, it has increased supply and poorer quality. An advertiser's campaign may look good on paper, but it's how it looks on the streets that matters: the volume of audience, the value of the audience and the quality of the engagement you have with that audience. Less is more, but encouraging developers and landlords of this is not easy.

You have now expanded to at least three cities beyond London. What is Ocean Outdoor's growth plan long-term?

Yes, we are now in Birmingham, Manchester and Liverpool, and we have two or three more target cities. But that's just one dimension to our plans. We believe we can grow the business organically, concentrating on maximizing what we already have by promoting the uniqueness of Digital Out-of-Home and the capabilities of the technology from an advertisers' and landlords' point of view. Then, of course, there are the emerging technologies that interface with digital screens in all their guises. Ocean Labs launched recently and we'll be inviting advertisers to come and experiment with all our kit – smart sites, if you like.

You have three types of products: digital, landmark and banner. What percentage of your sites is digital? How do you see your company evolving in terms of each of these?

Over three-quarters of our media platforms now are digital. We have been reducing landmark each year, as and when the contracts allow it. Iconic spectacular banners such as the IMAX are a core part of our business. Our measure is R.O.W. ie. 'Return On Wow'. Technology is making it possible to create spectacular locations with impact and they don't have to be just digital. The launch of the Wall at Westfield is a good example of this.

You recently did a management buyout. Can you tell us a little bit about how this came about and what it means for the company?

Well, the key criteria for all stakeholders (not shareholders) and by this, I mean the management, our people, our property partners, and our media and advertiser partners, were that Ocean retain its independence. Our customers were very supportive throughout the sale process, and I believe this is because we are contributing to the sector in a very positive way. We don't always get things right, but we are out there trying new stuff every day, promoting the medium, constantly trying to stimulate growth and a positive outlook for our industry. Does it feel as though life has been doom and gloom now forever? We just refuse to accept a cynical approach. At Ocean, you will often hear "The answer is yes; what's the question?". This is underpinned with a strong operational ethos of Freedom, Enterprise, Quality and Passion. I think our success in finding a blue chip investor such as LDC is as much due to this philosophy as the stuff we are more well known for and our business performance. LDC is our majority shareholder. To encourage LDC and confirm our own belief in the business, we had to put the little money we have where our mouths are.

Why have you concentrated on 'large format outdoor'? What do you see as its advantages?

Impact; stature; eye catching; an imposing presence to its surroundings; high end audiences in high end locations delivering high levels of engagement, and, ultimately, memorability of an advertiser's campaign; no 'off' switch; and all this delivered during meaningful touch points in people's action-packed, outdoor lifestyles. As an industry we should be shouting this mantra from the rooftops religiously every day. We don't do it enough.

You offer both static and full-motion digital. What are the advantages of each?

All Ocean locations now offer an element of creative enhancement for advertisers in terms of a communication platform above and beyond that of a traditional or digital scrolling billboard. Many opt to produce copy in a static format and that's their choice. We don't believe in digital screens as just the new scrolling delivery mechanism. That is not Ocean and it's not what all advertisers want. As well as significant creative copy enhancement, we can offer day part, dynamic copy, interactivity and gender recognition. Understandably, the less motion or obvious functionality a location has, the harder it is to persuade customers of what is possible. Full motion is so obviously different and that is its key advantage. It encourages the right kind of use by its very nature. That said, develop the wrong solution in the wrong location, and all that glistens is not gold.

Does location, potential content and advertising, or something else play the biggest role in what goes up where?

All play a part. There was some great location-based use across London for the Olympics. It really does depend on the advertiser brief.

I believe you offer or can offer your advertisers a turnkey solution. What partners do you work with for software management, etc.?

We do but we tend to white label this service so I will spare them their blushes.

What measurement systems do you use and why?

We await the arrival of new POSTAR; we use our own kit linked to our webcams; we are working with Quividi; and are part of a group of companies who, for different reasons, are supporting some neuroscience studies into memorability, to name but a few.

Is it more difficult to target specific demographics with large scale outdoor that it would be for, e.g., place-based media in a mall, airport, or restaurant? How could you convince an ad agency to put the client's dollars in your product rather than those?

It really does depend on the location: for sassy classy young women then Eat Street at Westfield is a must; for men under 25 earning more than 60k per year then it's The Screen at Canary Wharf. Demographic delivery is key for all Ocean sites. Coming from a broadcast background, I have often thought the obsession with from format to format within outdoor is misplaced.

In North America, a major argument by government against digital billboards is that they are a distraction to drivers and can cause accidents, despite numerous studies showing that this is not the case. Do you have similar arguments in the U.K.? How do you or would you fight this situation?

Yes, these debates are common with planning authorities and highways. We do fight this. It's part of the day job. We are constantly pushing the boundaries in a safety-conscious way. You are right though. The evidence right across the planet is contrary to any argument put forward by highways. Road users look at signs – shock horror!

Which do you find grabs more attention: digital signs on the outside of malls or digital signs on highways? Why?

This question is too generic for me to answer. Different factors are at play when you are trying to grab attention. I've been staring at the same piece of content on the same screen at the same station at the same platform cross track for about five weeks. It's now wallpaper. but I can remember every ad on the digital escalator panels at Green Park tube station. (Just ask Iain Chapman, my sales director.)

You say on your website that if the viewer feels that he/she has a potential location that would fit the Ocean portfolio of sites, that you would like to hear from him/her. How many times, if ever, have you received answers to this that have worked out?

Increasingly, we get more introductions like this; in terms of straight sites to develop – never. But the initial thought leads to something else and I can think of at least one very famous Ocean location that came via this route developed earlier this year.

If I'm not mistaken, Ocean Outdoor is not a member of OVAB Europe. Do you have plans to join? Why or why not?

Funny you should ask that as we are reviewing the trade bodies we are affiliated with. We support the UK Out-of-Home family via the OMC (Outdoor Media Centre) but are debating if there are other areas that we should be more vocal about that fall outside the OMC remit. The Video Advertising Bureau could be one??

What do you see as the growth potential of digital large scale format solutions in general in the U.K. and in Europe over the next two years?

Digital Out-of-Home now accounts for 16% of all outdoor but I'm unsure that this headline doesn't miss the point a bit. Digital Out-of-Home has grown rapidly in a flat market so we are, as a business, eating our own lunch. The market needs to grow its total share and whilst there is an argument to say 'Well you've held ground because of digital', I just don't think that flat is something to settle for, based on the levels of investment and the enhanced capabilities of the medium that this investment allows for advertisers.

Something is rotten in Denmark and I think collectively we can do a better job. We can market ourselves better; sell ourselves better; educate our customers better; we can take bigger risks re new trading methods; we can experiment more; collaborate more with other media channels; and measure audiences better. This will help us all grow, particularly the market-leading giants.

Europe-wide, it's interesting as digital penetration in a number of major European markets is a fraction of that of the UK. France, for example, is less than 3%. It's 41% in China. There are historic reasons, but ultimately, based on current penetration analysis, you'd conclude there was good room for growth across mature western European markets.