Not a show we usually attend, but last week we happened to be near the Monaco Yacht Show, probably the biggest and most luxurious in the world hosted in Port Hercule in the small Principality of Monaco.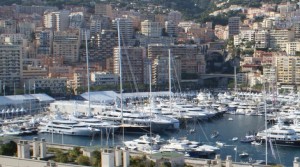 When the word yacht is used in this particular context, it doesn't describe the sailing dinghy you might have messed about in, nor the 30 foot yacht in which you might have sailed around the coast a bit.
No, this is primarily all about the 50 metre and larger luxury yacht market, which is going from strength to strength. Of course the interiors of these huge boats are fitted out in the luxury hotel/palace style, with technology to match, from the more navigational and systems management to pure entertainment.
This a vertical in which AV technology is becoming more dominant, and it was no surprise to see quite a few we know well from our industry. Here are some of the things we spotted while trying not to drool too much at the millions of pounds (or dollars or Euros) of super yachts, equipment and services on display.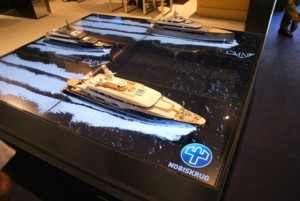 On the CMN stand (QD17 in the Darse Nord Tent) we saw one of the most simple but effective displays which used a 2×3 panel video wall laid flat on the corner of the stand.
Placed on top were three physical yacht models with the creative video underneath them being a loop showing the sea with the wake of three boats, which matched the models sitting on top. Clever, and a nicely eye-catching effect.
Crestron UK were present on their own stand QP5 in the Parvis Piscine Tent. Jill Phillips, Marine Business Development Executive, told us that this was the first time at the show that Crestron had taken a stand in addition to being well represented on those of various partners, as in previous years. They are seeing this particular vertical becoming a significant part of the AV market for them, and decided that this year merited more of a brand and corporate presence.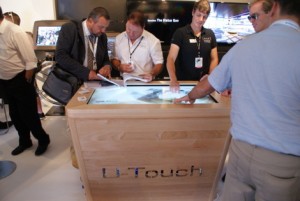 Porstmouth-based Advanced New Technologies showcased the U-Touch iChest on stand QS96.
It features an interactive table touchscreen and PC system in a nicely designed light wood casing. It is designed to show navigation, weather reporting and radar images, as well as being used for entertainment with built-in speakers.
Certainly a busy show (expected numbers of visitors were 30,000 over the four days) and an expanding marketplace, with the majority of yachts on show being less than 10 years old.