Gail Chiasson, North American Editor
If you are planning to attend the 7th Annual Digital Signage Investor Conference in New York in October – or if you've just been considering it or perhaps even haven't thought that far ahead – be aware that you can save yourself $400 if you register this week.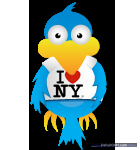 This special 'early bird' deal expires August 8 and we'd advise you to take advantage of it, because, from the look of the agenda this year, this is going to be one superb conference.
We happen to know that this isn't a conference where those who are speaking were chosen because they put their hand up. This year's speakers were very carefully handpicked to represent the most knowledgeable to speak on specific topics. For example, where could you get a better speaker to talk about Recapitalization and Restructuring after Chapter 11 than Brian Dusho, president of BroadSign, who actually faced that situation in the recent past – or about creating the framework of a successful merger to drive growth and value for investors than from Ajay Chowdhury, CEO of ComQi, who recently dealt with that.
Of course, there will be investors there, both speaking and quietly surveying the room and meeting attendees – maybe you?
While we can say that this is consistently the best event we cover annually, and that it's definitely the best place you can hear and meet potential investors, we can also stress that you don't have to have your hand out for funds to attend. You can simply register to hear and learn from some great speakers, meet the management of companies who may be in similar market positions as yours and—who knows what the future holds!
The Investor Conference will take place Oct. 17 and 18, during a week that also will include the Digital Place-based Advertising Association's Digital Media Summit on Oct. 19 – both at the New York Hilton – and several other industry events.
Check out the agenda here, and then register this week – before August 8 – to take advantage of the special rate. You are sure to take away the best practices, analysis and practical insights you need to help you make the right business decisions.
To register and save $400: Call 1-866-298- 9343 # 200; email customercare@strategyinstitute.com; or visit the conference website.