Gail Chiasson, North American Editor
When high-end jewelry designer David Yurman wanted to introduce its new line of jewelry, it required a launch party as glamorous as its products.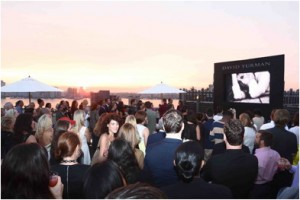 When asked to find a video display for a roof-top celebration in New York City, Coloredge, Yurman's visual communications provider, it decided to use a NanoLumens display to help kick off the fall line. NanoLumens, the Norcross, Georgia-based company that introduced the first large format flexible LED display technology, provided Coloredge with a NanoFlex display that was used to showcase the jeweler's new Fall 2012 ad campaign.
"Our client tasked us with finding a video display that could shine bright against the brilliant sunset over the New York City skyline," says Kerry Fitzgibbons, manager of strategic partnerships and recruiting at Coloredge. "After doing some research, we decided that a display created by NanoLumens was the ideal solution. Not only are their displays beautiful and economic, but they provide a clear, seamless picture that maintains its radiance, regardless of the ambient light."
Coloredge found that the lightness and flexibility of the NanoLumens screen was the perfect technology for the sparkling event. It rigged the display on trusses and built a 12' x 12' custom frame to enclose the NanoFlex display.
NanoLumens' display was used throughout the night to display David Yurman's new ad campaign, the brand guide, behind-the-scenes glimpses into the ad campaign, and a photo slideshow.
"To have a NanoLumens display featured at a David Yurman event makes sense," says Will Amos, director of retail sales, NanoLumens. "David Yurman represents the best in high-end jewelry, while NanoLumens represents the best in digital display technology, so this was a perfect match. Our displays are easy to set up, and are able to produce a brightness of up to 5,000 nits, making it so that party-goers can enjoy our unmatched picture quality even when set against the backdrop of an amazing sunset."
NanoLumens displays are designed and engineered with the environment in mind, and consume significantly less energy per square foot than conventional digital displays. Further, they are composed of up to 50% reclaimed materials, and are completely recyclable – and they can be serviced from the front, making maintenance easier than ever before possible.
Designed and assembled in the U.S.,, NanoLumens displays are offered in standard configurations as well as design-specific configurations to fit virtually any size, shape or curvature in both theNanoFlex line of flexible displays and the NanoSlimline of fixed frame displays.