Neo Advertising, one of the leading suppliers of digital signage and in-store TV solutions in Europe, and Engel & Völkers, one of the world's leading providers of agency services for brokering high-end residential and commercial property and premium segment yachts, have closed a master agreement.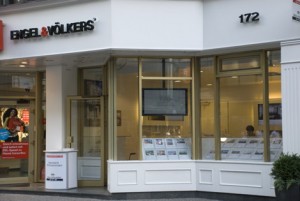 Engel & Völkers operates in 32 countries in addition to Germany, Austria and Switzerland.
Neo will be equipping the residential real estate agencies of Engel & Völkers license partners in these 32 countries with smart TV screens that show an animated programme of real estate offers from the worldwide Engel & Völkers network.
The screens will be integrated into the windows and interiors of the agencies.
Sven C. Jacobi, managing director of Neo told us "We are very happy to be working together with a first-class partner such as Engel & Völkers, and to be able to bring our experience in the market segment into the cooperation. Equipping more than 205 shops in 32 countries is the first project of this kind for us, and we really look forward to it".
Maximilian Knüppel, in charge of cooperations at Engel & Völkers, also expressed his delight at the signing of the agreement "In Neo we have found an experienced and expert partner in the market, who will help us simplify our digital communication with customers at the POS in real time."
The Solutions Division of Neo will provide the systems, the editorial content management of the networks and service and maintenance. The Engel & Völkers outlets will also be given the opportunity to manage parts of the programme themselves.