Gail Chiasson, North American Editor
Alan Schulman, chief creative officer, SapientNitro, will do the afternoon creative keynote at the Digital Place-based Advertising Association's 5th annual Digital Media Summit at the New York Hilton on Tuesday, Oct. 16.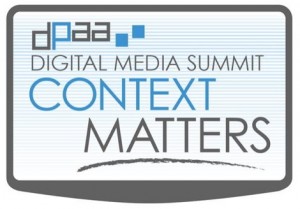 Registration is now open for the day-long event, with attendance expected to increase by 25% over last year to a record of more than 500 registrants.
The Summit is one of several events, including the 7th Digital Signage Investor Conference, all involving digital out-of-home and digital place-based media to be held in New York during the week of Oct. 14, 2012.
The DPAA Digital Media Summit will examine critical topics related to digital place-based media, including contextual engagement and planning strategies, and will feature case studies presented by leading national advertisers.
The agenda will also include a town hall-style open meeting with the entire audience to discuss strategies to grow the industry. Leading the discussion will be David Krupp, president, Kinetic; John Muszynski, chief investment officer, SMG X; and Pierre Richer, president, NEC Display Solutions.
While there are still some last minute details of the agenda to be worked out, confirmed topics and speakers include:
Opening remarks by Bob Liodice, president and CEO, Association of National Advertisers;
David Verklin, partner, VSV Partners and former CEO of Hal Riney, Carat and Canoe Ventures, will moderate 'Digital Place-based Media – The Brand Marketer's Perspective' during which marketers will speak frankly about why they use DPb media, the barriers to greater usage, and how agencies, networks and other stakeholders can help overcome some of these barriers to deliver a more useful and impactful tool for their brands;
Case studies from Oppenheimer Funds, Hallmark and Fosters. Additional case studies will be announced in the coming weeks;
'The Latest Advances in Research and What it Means for DPb', where Don Gloeckler, chief research officer, Advertising Research Foundation, (and formerly with P&G) will moderate a panel including: Jim Spaeth, founder, Media Behavior Institute; David Shiffman, senior vice-president, director of research, MediaVest; and Leslie Wood, chief research officer, Nielsen Catalina Solutions;
A panel on 'Using Technology to Engage Consumers – Best in Class Case Studies' will include: Stephen Randall, founder and CEO, LocaModa; Sanjay Manandhar, founder and CEO, Aerva; and Mikhail Damiani, co-founder/CEO, Blue Bite.
In addition to the day's sessions, a Media Lab featuring leading digital place-based networks and new technologies will be open to attendees.
The DPAA says that there are a limited number of sponsorship and Media Lab exhibition opportunities remaining. Summit sponsors and Media Lab exhibitors to date include: VUKUNET by NEC, BroadSign, Ayuda, Arbitron, PRN, Captivate, GfK, Show Media, Nielsen IMS and Aerva.
"Our 5th annual Digital Media Summit will feature our most robust agenda yet, featuring an all-star lineup of speakers," says Susan Danaher, president and CEO of the DPAA. "The tremendous enthusiasm for this year's event reflects the excitement and buzz surrounding the digital place-based sector. We are looking forward to a full day of idea exchange and provocative discussions."
Founded in 2006, the DPAA represents leading digital placed-based networks and the advertising community that is actively engaged in planning, buying and evaluating the effectiveness of the medium. On behalf of its members, DPAA seeks to foster ongoing collaboration between agencies and digital place-based advertising networks; provide standards, best practices and industry-wide research; and promote the effectiveness of digital place-based advertising.
Further information and registration for the DPAA Digital Media Summit can be found here.