Adrian J Cotterill, Editor-in-Chief
It might be Barack Obama's big day in the US today but in the UK there is a big football match about to happen this evening as underdogs Derby County take on English Premiership, European and World Club Champions Manchester United in a game to decide who will go to Wembley for the Carling Cup Final on 1st March 2009.
Here we see EYE's digital media supporting Manchester United (there's probably a pun in there somewhere). Bottom line, nice to see Manchester United Football Club using Eye's 6-sheet network AND its Digital Eyelites at Manchester Airport.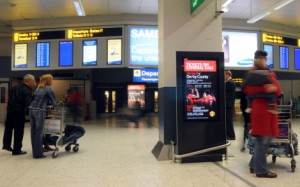 For those of you who don't know / don't follow English soccer, Manchester United are in the semi-final of the Carling Cup – a tie played over two games, one home, one away and usually played mid-week with a fortnight (2 weeks) in between.
Manchester United's airport advertising campaign captures both departing and arriving passengers, reminding them not to miss the important second leg of the semi-final game (Manchester Utd are surprisingly 1 nil down from the first 'away' leg).
David Johnson, Ticketing & Membership Marketing Manager at Manchester United Football Club, told us "This tactical burst is our first airport advertising campaign. Using a moving, digital message, we can capture the attention of flyers and prompt them with the different ways they can purchase their tickets ahead of the game on January 20."
We believe that over 90 per cent of the passengers traveling through Manchester Airport are UK residents, so the idea being that the world-famous football club can be sure that its campaign will be seen by a local audience.
Manchester United's airport campaign began on 1st January and will capture passengers across the two and a half weeks before the game on the 20th January 2009.