Adrian J Cotterill, Editor-in-Chief
Rock the Vote's mission is to engage and build political power for young people in the US and with less than 60 days left until Election Day, Rock the Vote's 'We Will' out-of-home media campaign aims to educate young people about pending or passed legislation concerning early vote laws (and ID requirements) that will make it harder for young people to vote in 20 states.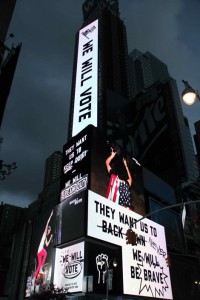 The campaign combines messages such as 'they want us to keep silent, we will be heard' and 'they want us to back down, we will be brave' with artful photography and graphics.
The campaign's objective, creatively rendered by TaskForce, a pro-social marketing and cultural organising agency and Apartment One, a Brooklyn-based branding and design agency, is to motivate youth to vote and Rock the Vote's powerful message is being placed strategically on out-of-home and digital out-of-home media assets across North America.
Heather Smith, President of Rock the Vote told us "We recognised that thought-provoking content whether static on the street or digital in place-based venues would invigorate 'We Will' in the most perceptible way" and this year the organisation has invested in their biggest out-of-home and digital out-of-home campaign ever, incorporating billboards, NFC layered bus shelters that allow for downloadable voter registration instructions, phone kiosks, wild postings, taxi tops, college shuttle buses, as well as digital screens in cinemas, malls, food courts, bars, restaurants, grocery stores, airports, college campuses, parking garages, technology stores, check cashing centers and atop ATMs and gas pump toppers.
Anne Judge, Founder and Managing Principal, The Judge Group told us "Together with PVBLIC Foundation, we segmented and integrated the most dynamic media platforms of our day to harness the power of traditional out-of-home's 24/7 presence on some well-worn paths of young people and digital out-of-home's supreme flexibility in real-time for real-time issues this Election Year,"
The campaign runs for eight weeks with impression levels that exceed 297 million today and will continue to grow as more out-of-home companies step up to partner.
About PVBLIC Foundation

PVBLIC Foundation is an innovative in-kind grant-making organization that harnesses the power of unused media assets to drive social change.  An aggregator of media across all platforms, we work strategically to pair media space with key non-profits at the local, national and global levels.  We utilize existing and emerging technologies to increase issue awareness around important causes and help non-profits amplify their message.  At PVBLIC, we believe that media = the new currency.