Adrian J Cotterill, Editor-in-Chief
If proof were ever needed† that we are upping the game in terms of industry award ceremonies, we thought we'd take a quick look at one of the most prestigious venues in London – one, that we just so happened to pick, to host The DailyDOOH Gala Awards.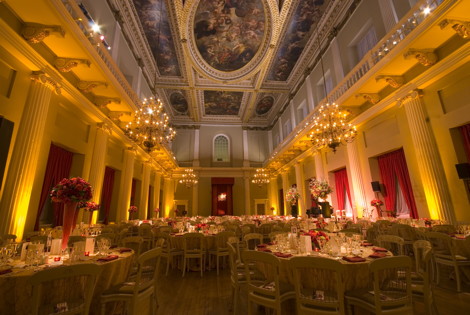 The Banqueting House, Whitehall, London, is the grandest and best known survivor of the architectural genre of banqueting house, and the only remaining component of the Palace of Whitehall. The building is important in the history of English architecture as the first building to be completed in the neo-classical style which was to transform English architecture.
Begun in 1619, and designed by Inigo Jones the Banqueting House was completed in 1622 at a cost of GBP 15,618, 27 years before King Charles I of England was executed on a scaffold in front of it in January 1649!
Today, the Banqueting House is a national monument, open to the public and preserved as a Grade I listed building – it is cared for by an independent charity, Historic Royal Palaces, which receives no funding from the Government or the Crown.
The DailyDOOH Gala Awards take place on Thursday 28th November 2013.
† No more moving tables out of the way to a clear a space on a show floor to run an award 'ceremony', no more standing at the bar waiting for an award.