Gail Chiasson, North American Editor
VeriFone Systems Inc. has unveiled its next evolution of media at gas stations, providing advertisers and marketers with new promotional capabilities including on-demand coupons at the pump and transaction-specific promotions at the c-store checkout counter.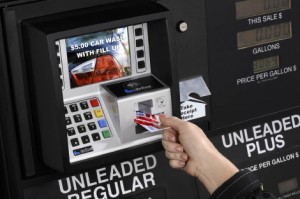 Couponing is the newest addition to the VeriFone Digital Network (VNET), further enhancing its ability to deliver digital media to consumers where they are most attentive – at the point of payment. After a successful 12-month pilot, where coupon redemption rates in excess of 10% far exceeded industry norms for freestanding inserts, VeriFone is rolling out couponing to its PAYMEDIA customers.
"Couponing at the pump, combined with targeted offers at checkout, has the ability to drive a significant increase in C-Store sales," says Tom Robinson, president of Robinson Oil, a privately held company based in Santa Clara, Calif. An initial PAYMEDIA pilot company keenly interested in couponing, Robinson Oil is now implementing VNET at all of its 34 Rotten Robbie retail locations in Northern California.
Robinson Oil is also implementing VeriFone Media's LiftRetail technology that allows marketers to target cross-sell and upsell messaging to consumers at checkout, based on real-time analysis of the items they are purchasing.
"We're eager to use digital media to entertain and inform our customers while offering incentives that spur them to action," says Robinson, who is also current chairman of the National Association of Convenience Stores.
As part of the turnkey PAYMEDIA solution for gas station owners, VNET delivers short-form video and digital coupons to eye-level, in-pump displays, engaging consumers actively involved in a purchase. It's an ideal environment to move consumers inside the convenience store to redeem special offers, build general awareness or to drive traffic around key locations with highly localized messaging.
"With VNET, advertisers engage a captive audience with one-to-one marketing," says Jennifer Miles, VeriFone executive vice president, North America.
"They are able to leverage an incredible array of targeted solutions, from dayparting and geotargeting at the pump, all the way down to the consumer loyalty ID or the individual SKU of the product they are purchasing – all in real-time."
Both VNET | At the Pump and VNET | In Store are being demonstrated along with other VeriFone payment-enabled media solutions in New York this week at Advertising Week Experience and again next week at NACS Show 2012 (Booth 3361) in Las Vegas.