Gail Chiasson, North American Editor
Price Watcher gas price signs, manufactured by Watchfire Signs, were showcased as a 'Cool New Product' at the National Association of Convenience Stores Show, October 7-10, 2012 in Las Vegas.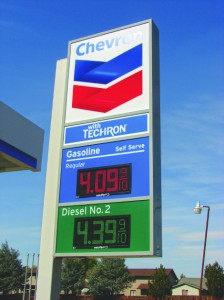 The outdoor LED sign manufacturer displayed its full range of convenience store and petroleum retail lighting solutions at its booth throughout the show.
Launched in March of this year, (see DailyDOOH's Feb 2 article – Ed.) energy-efficient Price Watcher gas price signs were part of the 2012 NACS Cool New Products showcase for innovative technology. The Cool New Products showcase was designed to highlight the best in new products, technology and services to the convenience channel. Attendees were able to scan their favorite products in the showcase and receive a customized printout of product information upon leaving the preview room.
Price Watchers' energy efficiency (the display uses as much electricity as a single light bulb) provides significant cost savings for gas stations and convenience stores. The product is easy to update in any weather, even in high-traffic or remote locations, and can integrate with a gas station's point-of-sale system to automatically sync with prices at the pump.
"Today, c-store owners have to be more strategic and innovative in their communication methods if they want to increase their in-store traffic," says David Watson, director of national account sales for Watchfire, "Just like turning off a faucet, pay-at-the-pump killed the foot traffic in most convenience stores. Watchfire offers advertising solutions that adapt to our customers' needs. For c-stores, that means driving customers from the pump to the store and helping the store present a clean, fresh, updated look. Price Watcher signs and Watchfire LED signs help them do both."
Price Watcher gas price signs help station and store owners reach out to passing traffic and increase their customer base; the LED price displays are available in a variety of colors and sizes to clearly communicate petroleum offerings to drivers up to a quarter mile away. And the Price Watcher signs are designed as a self-contained, plug-and-play product and are manufactured with the high quality that is Watchfire's hallmark. They feature streamlined design, energy-efficient cooling and full silicone encapsulation to enhance field reliability.
Watchfire Price Watcher gas price signs were developed with direct input from convenience store and gas station owners who sought a high-quality gas signage solution built to their specific needs.
"Price Watcher gas price signs not only offer a convenient way to update gas prices but are designed to make convenience stores stand out with high LED densities and broad stroke characters," said Michael Cox, Watchfire Electrical Design Manager.
"Price Watcher solves the issues of water intrusion, heat and corrosion – the three main sources of gas station sign downtime," says Byron Hall, Watchfire Electrical Engineer and lead product developer for Price Watcher. "With encapsulated price digits and front ventilation, features our competitors struggle to incorporate, components stay dry and cool."
More convenience store operators and petroleum retailers are buying a combination of the two Watchfire products; there are now over 300 operators in the convenience store and petroleum retail industry who own Watchfire signs.