Gail Chiasson, North American Editor
Four solid case studies that showed how digital-place-based media both increased brand awareness and gave ongoing sales lift were presented at the Digital Place-based Advertising Association Digital Media Summit an all-female panel moderated by François de Gaspé Beaubien, chairman of Zoom Media.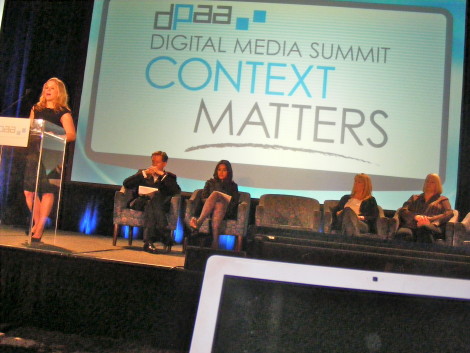 Panelists included Kirti Srikant, Oppenheimer Funds, Jan Mulkey of Hallmark Cards, Patti Foley of Jack in the Box, and Maureen McCloskey of Foster's.
Oppenheimer Funds wanted to change its reputation of being old to one of a company that is modern and bold. With a new theme of Globalize Your Thinking, it avoided TV, going to  customized iPad content, magazines, a film festival and other media, then strongly used the elevator screens of Captivate Network. As a result, 50,000 Apps were downloaded in three months, recall and traffic were both up, awareness tripled, and plans to invest were up significantly, with the elevator screens having  been credited for much of the upswing.
Hallmark Cards also want to change its perception as mainly a greeting card company. To do that, it decided to develop innovative products, of which the Jingle story with the result, along with the Life is a Special Moment theme line. Aim was to encourage its retailers, drive store traffic, and develop new customers, especially Moms with young children. It used TV, partnered with sponsors, and then went to Cineplex advertising, first with a 2:30 sec. ad in the pre-show and in theatre lobbies, and then, for the following month, used 30 sec. advertising in theatre lobbies and interactive kiosks. Among the successes of this was that the cinema advertising outperformed the TV advertising from 10% to 40%.
Jack in the Box, founded in 1951 and which had the symbol of a clown, modernized its symbol to All American Jack using a series of tie-ins to So-Lo-Mo (social/local/mobile), sponsorships and a contest of a trip to Cancun. The return on the investment was again successful with  successful numbers that included 24 million impressions and thousands of signups for the contest.
Foster's had to work with a small budget, so had to focus on a few markets. It concentrated on working with convenience stores on Long Island from June 11 to July 29, putting its advertising on Gas Station TV and Outcast screens. Its 31 locations saw a sales lift of 81% in volume and a  sales increase of 41% year-over-year.  Further, there was a halo effect that resulted in sister brands also experiencing an upswing.
The overall message was that four different types of companies using four different types of digital media, alone or in combination with other media, were all able to see positive results. It's this type of message that the industry feels will help keep it on a growth path in the future.