Gail Chiasson, North American Editor
Digital Out-of-Home isn't the easiest media to buy, according to John Muszynski, chief investment officer, Starcom MediaVest Group Exchange.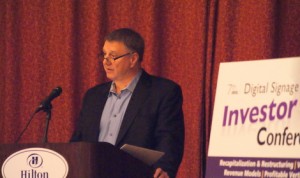 Muszynski told those attending the Digital Signage Investor Conference in New York last week that Digtal Place-based Media is like the wild, wild west: it's often difficult to find the right one for the client.
And while agencies have CPMs for traditional media, that's hard to find for Digital Place-based.
DOOH is several different channels rolled into one, he said. Digital Place-based has no special home, is more expensive and scale is an issue.
"It's often not getting bought because it has no special place in agencies," said Muszynski. "Further, it's difficult to navigate to find the one target that you need. Better research is needed with good benchmarks and a common currency."
Muszynski began his talk by looking at technological developments that are improving the analytics available for DOOH.
"Advertisers can now change their advertising triggered by the weather.
Behavioural targeting is now a reality.
"At one time, it was a case of finding the best eyeballs at the best price. Now it's a case of having to reach people wherever they are. You have to tap into their plans, mindset and the context in which they get a message.
"There are screens everywhere and consumers are looking at them to help them make better choices."
"Help us to better navigate what you offer," he said, mentioning that his company uses DOmedia to help it navigate.
Muszynski offered several ideas to help DOOH/DPb find its place:
"Focus on the consumer rather than what the technology can do. Tell me where I can reach this new, in-control consumer.
"Play up your strengths. Is it scalable? You are a medium. Show where you can offer localization and scale.
"Work towards giving us more metrics. We are always looking for better research.
"Tell us your success stories with the results.
"Be more assertive. Don't depend on the media buyer First reach the planner and show how we can navigate the landscape."
Muszynski said that it's a sad reality that there's a recession that means budgets are the same size or smaller.
"Arguments against you are that you are not targeted, not scalable and too expensive," he said. "The dollars for DOOH have to come from somewhere," he said. "You have to show us a bullet-proof story of what you can give us. Focus on getting planned and the buy will be automatic."