Russ Curry, Ministry of New Media
Jon Bøhmer, the inventor of the original InfoChannel product, founded Scala (then called Digital Vision AS) back in November 1987 and so, like IKEA (so Adrian says), Scala Inc. are this month celebrating their Silver Anniversary, i.e. 25 years in business.
We are delighted to announce that Scala have decided to celebrate their anniversary with us in London at The DailyDOOH Gala Awards on Thursday 29th November. Scala will be sponsoring the drinks reception and the after show party.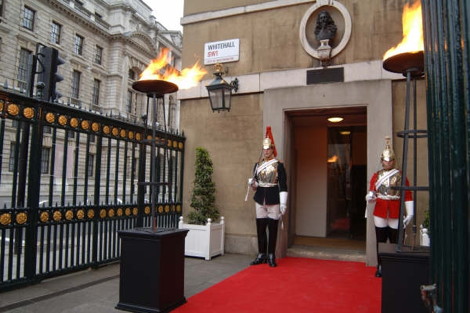 As you can see from the photo above, we have a very special 'Scala Red Carpet', complete with guards from The British Household Cavalry† to welcome guests that evening!
Scala CEO Tom Nix, who is flying over from New York to be with us, was no doubt pleased to see several Scala users and two Scala partners as finalists in a number of award categories.
One of the largest Scala users in Europe, big Phil Austin, has also kindly bought his own table and will be entertaining Scala users from around the world.
†The British Household Cavalry is made up of two regiments of the British armed forces, the Life Guards and the Blues and Royals (Royal Horse Guards and 1st Dragoons).