Gail Chiasson, North American Editor
Considering the size of Symon Communications, Dallas, it has been rather surprising that the company has been relatively quiet within the digital out-of-home space – but expect to see that change over the next year.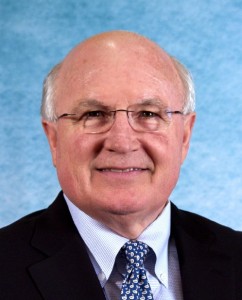 Symon has been around for 32 years in total, but in true full digital mode since 2003 and offering full service since buying TargetVision that year. It has no less than 7,500 customers worldwide. Since 2005, the majority shareholder has been Golden Gate Capital.
"We have partners for third party installations, a few for assembly on media players, and we mainly use LG and Samsung for screens in the U.S., and use others worldwide," says Charles Ansley, Symon's president and CEO.
The company's 180 employees (145 of whom are in the U.S.) include 10 people who do nothing but manage the 900-plus installations that Symon is doing this year (fiscal ending Jan 31/13) and a full-time team of 12 creatives that develop custom content as required.
"To date we've only worked in English," says Ansley. "This year, the creative meant new content for the 900 new installations, 80% new content for upgrades, and then there's the 3,500 sites that we go to for refreshing everyday."
The company also does all its own R&D in the U.S..
Symon's revenues are 70% from the U.S., 30% from worldwide. Total revenues are divided approximately one-third each from software, media players, and screens; professional services and development of custom content and subscription content; and from installations with third parties, especially if there is a big rollout.
"Another way of looking at our business is that 70% of revenues comes from inside enterprises: call centres, employee communications, and supply chains, while the other 30% comes from external, such as hospitals, several hundred hotels, about 50 universities, 40 casinos, and government installations," says Ansley. "We work with about 80% of the Fortune 500 companies. We have a great heritage and major companies like to work with us behind their firewall because they know that we're certified and offer security. We know how to bypass the IT hurdle and companies know that since we work with, eg., three big banks and the two largest telephone companies, we can handle whatever they need.
"There are several things that make us really successful. One is that we have a robust software that's scalable, so that we can handle any installation from one to multiple hundreds. Another is our content creation. Nobody does it like we do and can tie it to real time business metrics and make their staff really intelligent.
"Further, we have a team offering, very sustainable, with more project managers, a help desk, tech support and more. We offer a real solution."
Ansley admits that the economy has affected the company in Europe and the U.S. this year, and says that the company's best growth has been in the Middle East and the Asia-Pacific region. In North America, he says, the sales cycle is long and he's seen several potential clients sitting on the fence. Nevertheless, he says, Symon is on track to record its all-time best year in terms of sales. It recently added 100 installations in India to help reach that goal.
With all that large, historic background and solid growth, we asked Ansley why Symon hasn't been front and centre among companies making noise in the DOOH space.
"We know that we need to better market ourselves, and you'll be seeing that in the next few months," he says. "We recently hired a speciality marketing company to look at just that point. Part of the reason, we know, is that we've not done much in the advertising business. Our forte is behind the firewall, and merchandising.. It's been a case of 'doing what you know best.' Luckily, we have very loyal customers.
"However, we're expanding our consumer base. We've hired experts in retail and in employee communications. We've identified a special list for the supply chain. And we're down to interviewing candidates to head marketing following Steve Gurley's leaving us to form a mobile venture several months ago. We've also added Stewart Bloom from Golden Gate Capital to our Board of Directors."
Ansley praised this year's Digital Signage Investor Conference as being the best of the four he's attended, and we asked him about consolidation in the industry, touted often by he conference speakers as a necessity for the industry to grow.
"We've looked at 30 companies over the years for purchase," he says. "We did buy Dacon in the U.K. to form Symon Dacon and AFS/Message-Link in St. Louis to form Symon Hospitality. Recently, we walked away from a potential buy after 120 days. However, we have a good financial position, we have cash, and we're acquisitive, so our intention is to participate.
"We'll look at companies as they become available, but it's important that the culture and the finances be right, Even if we have a sector covered, like our software, there are always companies that offer things you can add on."
We first met Ansley several years ago when Symon introduced its 3D offering, which was quite advanced at that time. What happened to that venture, we asked.

"That was around 2008-09," says Ansley. "We pursued it for 12 months, but I think we introduced it at the wrong time. We only installed it in the Middle East. However, we have a relationship with a company in Dallas so can incorporate 3D for any clients who want it.

"What we are looking at strongly now is our marketing and branding emphasis to give us a bigger image, and we have to look at more social marketing."

Symon is a member of the Digital Screenmedia Association and says that it has been a great help in terms of keeping up with what's going on in the industry to gain business leads with vendors and clients. It had planned to exhibit at Customer Engagement Technology World but, as we wrote yesterday, it pulled out, directing the designated funds to the Red Cross to assist those affected by the recent superstorm.

"However, this is still an exciting industry," says Ansley. "It's fun, it offers opportunities to learn, and it's fast-changing. If you don't keep up with the industry through organizations, events and so forth, you'll quickly be left behind."