Adrian J Cotterill, Editor-in-Chief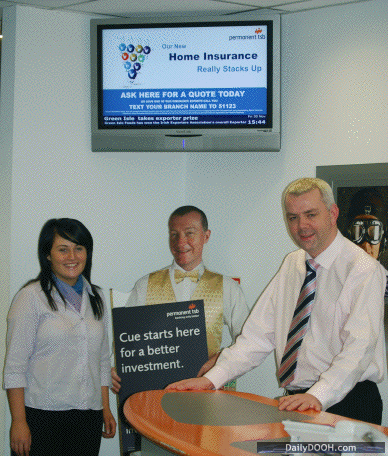 Since we first reported on this back in November 2007, this Permanent TSB network has grown a tiny bit (TellerTV take note!!!) and it is now 110 strong.
Permanent TSB is the retail banking arm of Irish Life and Permanent PLC
Radiant Ireland kindly sent through the picture above.
We have a slight criticism of the screen content that we saw when we were in Dublin just before Christmas – we are not sure why you need an on-screen clock (bottom right hand corner just adds to screen clutter), there is far too much information on the screen itself and a lot of it is wipe on / wipe off type Powerpoint animation.
Digital screen content in banks in our opinion has been absolutely awful in the UK and Ireland to date (think also Lloyds TSB) – they need Dagobert to come to their rescue!!