Samsung Electronics UK is set to take over JCDecaux's new Cromwell Road Digital Gateway in the run up to Christmas with an outdoor campaign created by Cheil UK.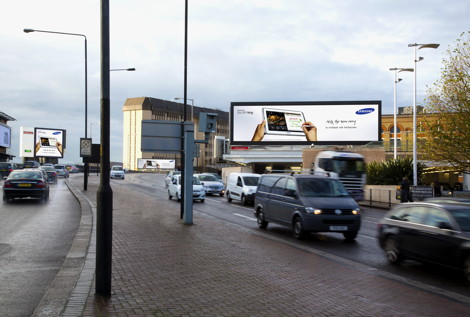 The campaign, which has been planned and booked through Cheil UK in conjunction with Rapport, is set to use the digital outdoor space to showcase Samsung's range of mobile products in this famous London road in the approach to Christmas.
This is the first time Samsung has brought together its entire range of mobile products in one media space, and will be used to promote the GS III, Note 10.1, Note 2 and the S Camera products during a two-week period running from 26th November.
Using digital outdoor marketing to its full potential, Samsung will provide commuters with updated creatives each day across the nine digital screens that comprise the Cromwell Road Digital Gateway. Samsung will also run daily product-specific messaging for the first eight days and targeted multi-product messages for the second half of the campaign.
Andrew Wynd, Head of Media, Samsung Electronics UK and Ireland told us "As a company with an ethos of innovation and leadership, it is important that our media space is as future-facing as our products. This newly digitised opportunity in London's Cromwell Road will provide the ideal showcase for our core products, delivering high visibility and huge impact at this key time of year."
Matt Pye, Managing Director at Cheil UK, was quoted as saying "Samsung's strategy is to highlight the core benefits of the key products to audiences, bringing them to life in a contextual way. More than simply adding a bit of tinsel, Cheil's creative will use the digital space on the fabulous Cromwell Road to showcase Samsung's extensive range through relevant seasonal scenarios and narratives, engaging our audiences in the pre-Christmas period."
Samsung's creative will dominate this key gateway to London across all 300m² of digital outdoor space in Europe's busiest road, reaching an affluent, upmarket audience of 2.3 million, travelling between central London and West London, including Heathrow Airport.