Russ Curry, Ministry of New Media
No self-respecting awards ceremony would surely be complete without a raffle – and that's exactly what the good folks at NEC Display Solutions and Wonderworks 3D thought when they approached us with suggestions of some stunning prizes.
First up today let's look at what NEC Display Solutions have given us (to give away to some lucky person on the night)…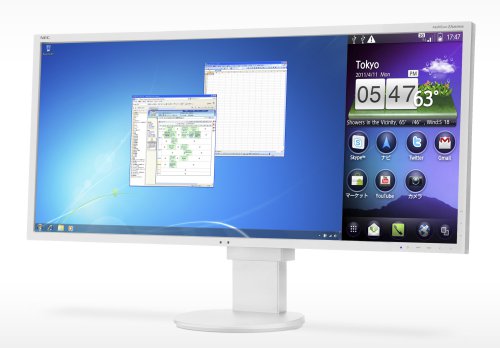 Yes, it's a screen, but it is not just any old screen! The model that Simon Jackson is offering is the brand new 29″ EA294 – so brand new in fact that it won't be commercially available until February 2013.
It's an impressive piece of kit, with a value of over GBP 500 (ex VAT), and available in white and black versions. We won't bore you here with the Tech Specs, but we do know that the lucky winner will be thoroughly delighted with the quality that NEC is renowned for.
Guests will notice that their tickets are individually numbered and should hang on to them preciously during the course of the evening, since the numbers that are being drawn out of the hat (or maybe champagne bucket) will refer to their ticket number!!
Details on Raffle Prize #2 up on Wednesday!
Designed for the office of the future, the NEC MultiSync EA294WMi features an extremely thin 29″ 21:9 IPS LED backlit panel with a resolution of 2560 x 1080 which results in an ultra-modern and slim design. The new 21:9 format is equivalent to two side by side 19" displays and represents an excellent alternative to any multiple screen set up. Ambient Light and Human Sensors enforce the sustainable product concept whilst offering improved ergonomics with 130 mm height adjustability. A wide selection of inputs including DisplayPort and HDMI/MHL, provides users with the best compatibility to corporate systems today and in the future. Office communication is supported through integrated speakers, headphone jack, USB hub and Picture in Picture functionality. New MHL (Mobile High Definition Link) offers direct connectivity between the monitor and a smart device. This model is ideal for the corporate that demands style and future proof technology.