Gail Chiasson, North American Editor
Eye, New York, Out-of-Home mall media provider, launched a new digital high-definition place-based–media network last month at the King of Prussia Mall, the third largest mall in America.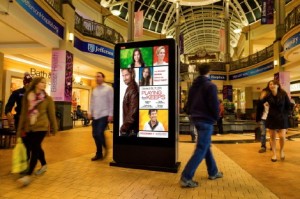 The network caught the eye of the entertainment industry and ads running this holiday season include campaigns from Universal Pictures, Paramount Pictures, FOX Broadcasting and Film District.
This famous Philadelphia mall is popular with both locals and tourists. It houses three million square feet of prime retail space and the ability to deliver advertising to 1.7 million mall visitors per month via Eye's 12 digital ad units. The 72" HD digital units feature five ads in a 35-second full motion advertising loop giving advertisers the ability to reach consumers when they are out and about in a buying mood and close to point of purchase.
Jeff Gunderman, senior vice-president and general manager of Eye, says, "Eye is continuously looking to expand our portfolio and help our advertisers interact and resonate with the mall audience. Our advertisers see results in their investment and that is the kind of performance we strive to deliver every day."
King of Prussia Mall, located in King of Prussia, Pennsylvania, is home to seven world class department stores and more than 400 stores, boutiques and restaurants.