Gail Chiasson, North American Editor
Over the past 15 months, members of the Out-of-Home Marketing Association of Canada have grown their Digital Out-of-Home inventory by over 80%, from 3,700 to more than 6,800 screens.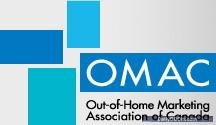 OMAC member companies, which include Astral Out-of-Home, CBS Outdoor, Cogeco Metromedia, Lamar Transit, Newad, Pattison Outdoor, Titan 360 and Zoom Media, have invested in digital OOH nationwide.
Offerings now include large outdoor formats from traditional posters to spectaculars and landmark locations, networked screens on transit routes and ferry terminals, to indoor networks in multiple venues such as restaurants, bars, fitness clubs, malls, airports and college campuses.
Some digital networks offer static and full motion ads on an ad or ad/content loop, audio, mobile compatibility, RSS feeds and live video streaming capabilities as well as matrixed screens equipped with gesture recognition.
The growth has been driven by a number of factors including technology advancements, changing consumer behaviour and marketer demands for short lead times, creative flexibility, mobile integration and the desire to create immediate engagement with consumers.
"The expansion of OMAC member company's digital offerings underscores the industry's commitment to respond to the needs of the advertising community by adapting to shifting consumer trends and increasing the innovative choices available for marketers to optimize campaign results," says Michael Reha, OMAC chairman and CEO of Newad.
To help advertisers and agencies stay current on the rapidly expanding digital OOH inventory of members, OMAC has created a digital planning guide showing the markets, screen specs and other details by company. It can be accessed here.
OMAC is responsible for promoting the benefits and effectiveness of out-of-home media to advertisers and advertising agencies. It seeks to develop and implement new initiatives that serve as a resource to the industry and increase understanding of out-of-home media. OMAC members support the communities they do business in by donating more than $10 million annually in advertising space for charities and non-profit organizations.