The UK's Ocean Outdoor is launching a new marketing campaign to promote the power and presence of its large format digital outdoor portfolio across UK cities.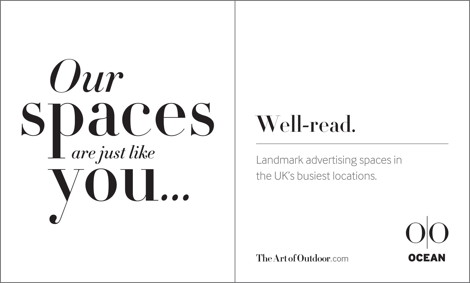 Leveraging Ocean's Art of Outdoor proposition, the campaign draws attention to Ocean's great spaces, big audiences, new and emerging digital capabilities and the results the medium delivers.
Tailored to mirror the design of Ocean's iconic Two Towers West and East, which straddle two of London's major arterial routes, the campaign breaks on January 14 across the Shares pages of the Financial Times and online.
Using the theme Our Spaces are Just Like You, the campaign speaks directly to its audience using five key elements of outdoor to draw parallels between the reader and digital outdoor as a medium which is well read, influential, well connected, visionary and results driven.
Ocean Outdoor Marketing Director Richard Malton told us "Large format digital outdoor canvases are all about the dramatic and the epic. Razor sharp, clever work which turns heads and increasingly facilitates a response. What's required are equally bold ideas that are designed specifically to utilise the medium, the environment and its technical capability".
Ocean's campaign focuses on the connectivity digital outdoor offers to the 'always on' mobile audience and the access brands have to real time demographic data which can help them plan how and when to serve up adverts.
Ocean is propelling this change through its Ocean Labs initiative which is working with brands like House of Fraser and Universal Pictures to test gender recognition advertising, sound showers and ambient lightscapes.