Gail Chiasson, North American Editor
STRATACACHE, a Dayton, Ohio-based provider of scalable, high-performance digital signage, content distribution and enterprise video acceleration technologies, is showcasing two products: Retail Cache and Digital Play Solution, in booth #2523 at Retail's BIG Show at New York's Jacob K. Javits Convention Center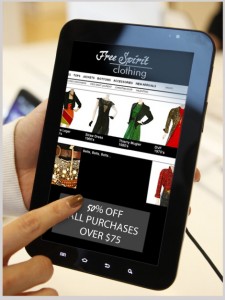 Offering retailers the opportunity to learn about new, unexpected ways to use tablets in-store without encountering slow, unreliable Internet connectivity, is Retail Cache.
The Retail Cache alleviates network consumption and enhances the in-store Web browsing experience for consumers and employees.
With the Retail Cache, website content is available to customers at the local, in-store wireless network speed, providing much faster speed connections. Retailers have the option to pre-populate the cache with specific content their customers want, delivering the most bandwidth-intensive applications to dozens or hundreds of online shoppers at once.
"In today's digital age, customers are using in-store tablets to browse mobile catalogs, order out-of-stock products and complete sales transactions," says Chris Riegel, Stratacache CEO. "However, the advantages of providing in-store access to Web-based marketing and sales material is lost if the online experience is slow or unreliable. The Retail Cache overcomes this challenge, delivering website content at the local, in-store wireless network speed for a faster Web browsing experience that keeps consumers coming back."
Drawing big attention also is STRATACACHE's Digital Play Solution, a new, interactive solution empowering customers to become more involved in the shopping experience. Digital Play solution displays high-definition, interactive product and brand messages programmed to respond when a consumer interacts with sales and marketing content via motion-based gestures.
For consumers of all ages, with the wave of a hand or stomp of a foot, retailers can promote products and interact with customers all along the path-to-purchase. The Digital Play experience engages consumers to interact with featured messaging, increasing customer recall five to seven times more than a standard digital sign.
"Transforming evasive consumers into engaged shoppers is the goal of any retailer," says Riegel, "With Stratacache Digital Play, we are revolutionizing the way consumers interact with a brand while facilitating a better shopping experience."
STRATACACHE's Digital Play solution has four different available experiences:
Gestural Interactive Floor displays content projected onto a 6×8 foot area on the floor that creates an "attract zone" in key retail locations;
Gestural Interactive Wall displays content onto a 2×2, 3×3, or 4×4 video wall of 46″ high-definition displays or wall projection technology;
Augmented Reality engages consumers by overlaying graphics onto a real-world image, helping consumers envision products and make the purchase decision easier. AR is for use with the floor projection or wall displays;
Virtual Reality displays products or services within a virtual environment, using graphics to enhance and contextualize a scene or product. VR is for use with floor projection or wall displays.
"NRF's BIG Show sets the trends for retail experiences," says Riegel. "Innovative digital media solutions have a big impact on bringing retailers closer to the consumer."
STRATACACHE Digital Play, which Reigel calls retail's promotional power tool, brings to mind the company's enVu, also offering a gesture-based on-the-floor product. However, Digital Play seems to be a more advanced product – although I personally foresee retailers being more interested in the wall aspect rather than the floor.
STRATACACHE is a privately-held provider of efficient, scalable and cost-effective digital signage, IP video, content distribution and enterprise video acceleration solutions. Working with over 400 of the world's largest firms in the retail, finance, service, hospitality, manufacturing, media and government sectors, STRATACACHE's products meet the performance requirements of large-scale enterprise solutions, while immediately providing a significant return-on-investment to the customer.