Adrian J Cotterill, Editor-in-Chief
Our technical team have been in Cologne since Sunday 13th January, yours truly since Tuesday and we only get to leave a week later, late Sunday evening (20th January), snow allowing (as I look out of the warehouse we have habited all week all I see is snow, snow and more snow, both on the ground and falling from the sky).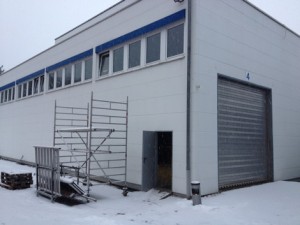 Like most of our readers, we are now into the final run up to #ISE2013 (without wanting to wish our life away) a week today we will all be on a plane (again) to Amsterdam.
#ISE2013's Digital Signage Zone looks bigger and better than ever, ISE itself will be bigger – the only let down is the very poor number of conferences that week.
There's no DiSCO this year, so apart from the MegaPixel Summit (and the not affiliated to ISE #AOpenForum event out at an airport hotel) nothing much to replace it with either.
If the ISE organisers want to get more end users to travel to Amsterdam (in an always cold and blustery January) then they are going to need to up their game in the conference landscape for sure (we understand that Marieke Bouman recruited by ISE back in July 2012 to be their conference manager didn't last long and no longer works for ISE).
As for us, well assuming we make it back to the UK safely then we still have an action packed week – half the team working on the final preparation for a (hopefully, surprise) video wall we have built for a customer to be seen for the first time at #ISE2013 and the rest of us (the non-techies) continuing our M&A work with a big workshop for clients in London.
I am sure we will be reporting on the industry as usual this week but if you are going to Amsterdam then we look forward to catching up with you there. We won't be spending much time wandering around the event – we'll be camped out in Hall 4 Stand R24 (trust us, you won't be able to miss us as we will be standing underneath a big sign).
Oh and watch out for an editorial special tomorrow, as we do our own exclusive coverage of MegaPixel Monday.