Adrian J Cotterill, Editor-in-Chief
Signagelive will be formally announcing its collaboration with Samsung at #ISE2013 next week with regard support of Samsung's new Smart Signage products (also being launched at the show).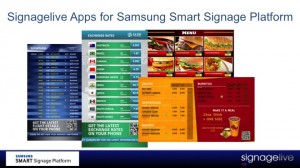 Senior representatives from Samsung will be showcasing next-generation digital signage products at a press conference on Tuesday 29th January at 13.00. Samsung will also be announcing its relationship with Signagelive as one of its preferred software providers. Signagelive has made a number of enhancements to its core software (written in HTML5) to ensure seamless compatibility with Samsung's new Samsung Smart Signage Platform.
Samsung's Signage products will be promoted as a turnkey solution, enabling digital signage technology users to display high quality, interactive content to targeted user groups. To help facilitate this, Signagelive has been working in partnership with Samsung to develop a portfolio of off-the-shelf applications for different industry sectors, including retail, fast food, education and corporate enterprise.
These new applications are fully compatible with Samsung's Smart Signage line up. They comprise ready-to-use templates, management and reporting tools and a number of innovative features such as drag and drop functionality, QR code support and management integration for widgets such as Twitter or Yahoo Finance.
Targeted content, such as latest promotions, nutritional facts, or employee information, can be quickly displayed on multiple screens at the push of a button and scheduled to dynamically update, depending on factors such as location, time of day or updates to external data sources.
Jason Cremins, Signagelive CEO told us "We are really pleased to have been selected as a key development partner for Samsung. The Samsung's innovative digital signage products will result in significant hardware, operational and energy savings for all digital signage users. Furthermore, our range of plug and play applications enable digital signage network operators to immediately display highly targeted information to different user groups, resulting in a better user experience for consumers and improved profitability for the brands".
We are told that close development between Samsung and Signagelive has resulted in innovative and unique capabilities, including the ability to control content being displayed using the standard remote control supplied with the Samsung Signage products.
A new web site www.SmartLFD.com seems to have more information as well.
Signagelive can be found in Hall 10, Stand Q112. Samsung can be found in Hall 1 Stand F18.