Adrian J Cotterill, Editor-in-Chief
atmAd announced this week a major, national campaign by our favourite people, the UK's HMRC to raise awareness of its push to crackdown on undeclared income.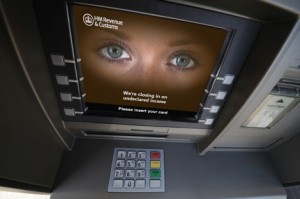 The campaign was planned and booked by PHD, M4C and Kinetic as part of a wider media plan. The aim of the campaign is to inform the consumer of the importance of declaring all income for tax purposes.
The campaign will run on High Streets and at Supermarkets across multiple ATM networks in the UK.
Over 2,800 ATMs have been selected to run the campaign that is predicted to deliver over 11 million one-to-one engagements during a two week period. In addition to the highly engaging on-screen message, the customer's ATM receipt also features a call to action that encourages the ATM customer to visit a purpose built website.
The creative was built by M&C Saatchi and converted by i-design's in-house creative agency, Lime Jelly, and takes full advantage of the one-to-one intimacy atmAd offers.